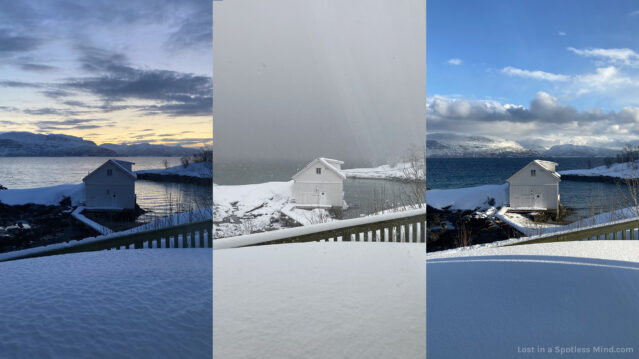 February came and just knocked me off my feet, in a bad way. I had anticipated that January would be hard, but forgot it's actually February that usually does the most damage for me. I have a five-year journal that lets me see what the same date each year was like, and February has been shit since 2019.
This month saw the pandemic "re-opening" of Norway, which came with unhelpful footnotes that vulnerable people "ought to shield, but not isolate themselves." Not gonna lie, it made me feel pretty left behind, or rather, separate again, just like I was before the pandemic.
Heads-up: the next two paragraphs are about the current situation in Ukraine and about the IPCC report, feel free to skip them!
Then came the double whammy of Russia/Putin invading Ukraine, and then the newest IPCC climate report. Now, I don't want to minimize or forget other conflicts already going on in other parts of the world. It's just that Europe is is literally closer to home; Norway shares a border with Russia, and I have dear friends in much more exposed places. My nervous system seems very aware of all this.
News like these make me feel both so ready for action and wanting to help, but also starkly aware that most days I have more than enough with keeping myself clean and fed. So I'm trying to be an adult and keep two truths in my head at once: 1. these are big and scary situations, so I want to keep myself informed and do what I can, but also 2. I'm no good for anyone if I scroll myself into a state of panic. If I want to take care of the world, that includes taking care of me, because I'm part of the world, too.
So yeah, this month has felt all over the place, like I've been trying to re-gain my balance as everything tilts and shifts. I'm hoping March will be kinder, so I can act rather than just react. I suspect many of you feel similarly.
Outside the window:
Porpoises, their fins barely visible. Ducks on the hunt. Birdsong in the morning when I air out my bedroom. The eagles again, several times. How the mountains get that textured, tactile look when the sun hits them from the side. Tree branches that are so heavy with snow that they move in slow swoops, like proper ents. The sun reached the terrace outside, then my sewing room. So much more snow, again.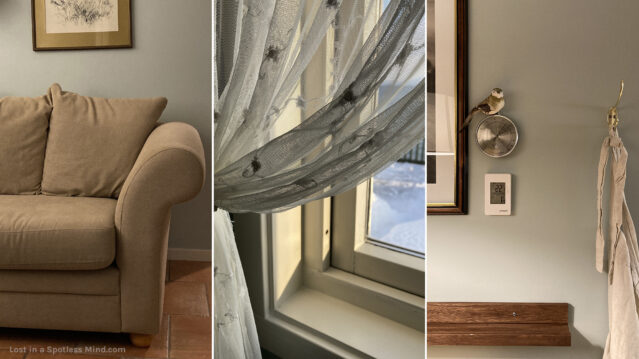 Inside:
More glorious daylight also means more visible dust, so some dusting was in order. I finally hung my thermometer and hygrometer, by the kitchen table for easy viewing in the mornings. I got to borrow the comfiest couch (thank you, mum!), moved to me by stronger arms than my own (thank you, dad!). The couch newness then snowballed into a new shelf that went up next to the couch, and when I picked up said shelf, I also got a dining chair on sale (it fits my body so perfectly, it was clearly meant to be mine). I've dubbed it my Writing Chair, and yes, I am sitting in it this very moment while editing this blog post.
Making:
I had some wildflowers that mum picked for me in the summer of 2020 (or was it 2019..?), that have been safely pressed in a book ever since. During one of my anxiety-induced online scrollfests I found one of those double-glass frames (with no background), so now I can look at wildflowers all year round.
Other makings: one row on the crochet shawl every day, until too much wrist pain stopped all crochet for the rest of the month. I tried sock darning for the very first time; it was immensely satisfying, and taught me the lesson of darning before twenty-five percent of the sock is gone. I finally got the teal linen shirt cut out, and more than halfway sewn. Finally, I wrote three beginnings to blog posts, before my mental health fell into that ditch and writing was too much mental gymnastics.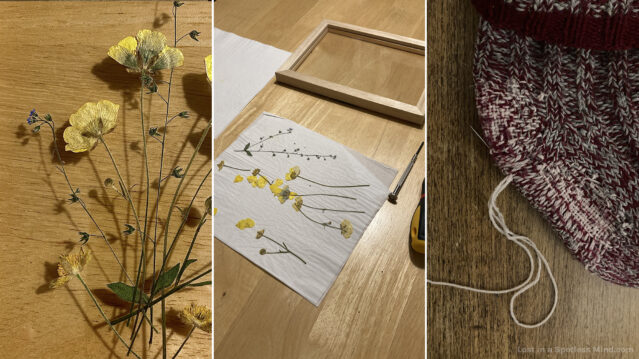 Thoughts:
– it's difficult for me to prioritize fun/non-vital activities because I can so rarely pick up the slack afterwards — but if I don't do them, life feels like playing The Sims in slow-motion and without cheat codes.
– I'm trying to figure out why my anxiety always spikes when it's time to go to bed. No luck so far.
– I've found myself missing flirting. You know, that whole witty banter thing that's like a good and sweaty round of pulling rope or dancing the tango (both sides push and pull just the right amount to keep the tension going)?
Reading (some of it):
– a queer historical romance series by Olivia Waite (embroidery! music! lots of sexy stuffs!)
– Nigel Slater's cook books, on audio because his voice is so soothing.
– "The ten thousand doors of January" by Alix E. Harrow
– also just holding and absorbing the vibe of the autographed hardback copy of "The Slow Regard of Silent Things" by Patrick Rothfuss that Maja got for me (cue all the fangirl squeals!!).
Watching:
"Inventing Anna" on Netflix (while trying to ignore its anti-fatness and how the show didn't fulfill its promises, in my opinion).
My new shelf, pondering what I want to put in it.
"Tales From The Green Valley" (click here for the YouTube playlist), a BBC documentary from 2005, where modern researchers live on a farm as though it's the 1620s. This show makes me both calmer and more hopeful, because it demonstrates how wildly different life can be, but still look like a good life (at least if you had a community and certain kinds of privilege)? Oh, and if you don't want to see the butchering parts, the November episode is the one to squint at/skip.
Listening:
The Wailing Jennys. Encanto (a month after the rest of the world). Soundscapes on YouTube (especially this cozy rainy one). My sewing machine. Emilie Nicolas. Silence, while reading.
Wearing:
A new (store-made) teal blouse that fit perfectly, but then shrunk in the wash and now has that annoying button gaping over my bust. My poofy summer dress, wishing for warmer days. Compression gloves for wrist pain. Makeup that isn't just brow products, for the first time in a long time.
Favourite memories:
Couch Moving Day, because it made me feel so cared for somehow, even if accepting things, and help, still makes me so awkward.
Eating chicken soup with my sister Lillian by my kitchen table.
That weekend I took a "holiday"/staycation/whatever you want to call it, which I decided meant:
no Instagram or news reading
no pressure to do stuff on my neverending to-do list
new or special foods that I don't have every day
my phone on silent
doing my best to make sure my body was as comfortable as possible (so enough food/pillows/painkillers/sleep/rest/books/things that feel good).
I almost felt like myself again after that.
Take care of yourselves, and each other.