Outside
Proper autumn smells, then the autumn colours. On yet another pharmacy run: people who've celebrated pride, with brightly-coloured hair and queer flags painted on their cheeks. The return of the moon (during summer it's too light to see it properly here). The first morning of opening the bedroom window wide and having proper cold autumn air rush into the room. The heron, camouflaged on the rocks. A lone, swimming moose.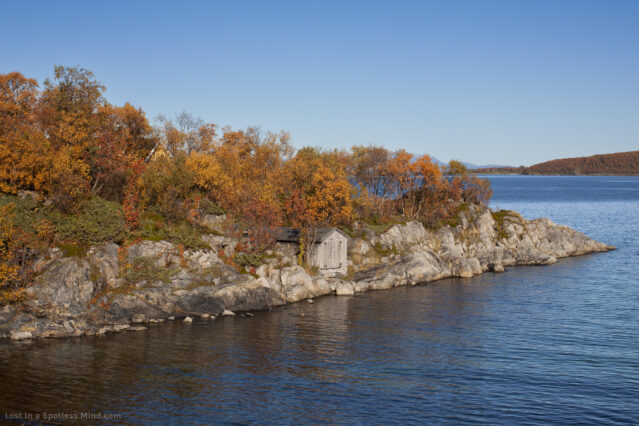 Inside
Rule one: keep the kitchen table clear. I've mostly succeeded, though as mum always used to say when we were kids: there's nothing so alluring as an empty table.
I was very low energy/high on symptoms for most of this month, a combination that always means a certain level of mess, dust, and ennui. Stuck on the sofa, or in bed, I've kept my mind occupied by pondering re-organizations and whether I really need all this stuff.
With that in mind, one of the Big Tasks I did manage was a good old-fashioned yarn clean-out. I reduced my stash to 1/4th of what it used to be. Because of previous weaving periods I had several lone balls of yarn, chosen for their texture and look rather than the softness, and not enough of it to make a proper garment either. Now that I can knit (more below!), the fabric snob in me has taken over and refuses to touch anything even remotely itchy. If I'm going to spend months working on a project, I want it to be nothing short of a sensory delight.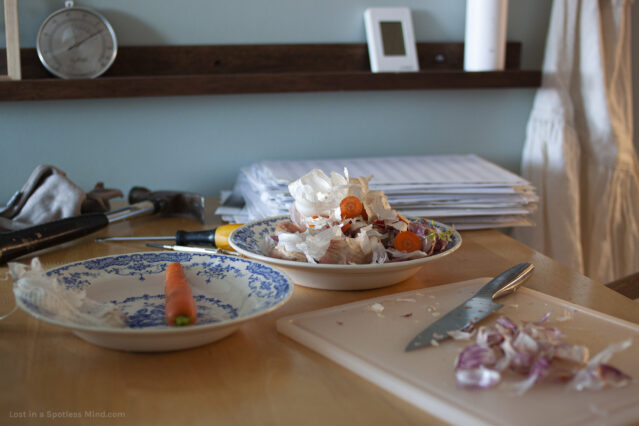 Making
It is a truth universally acknowledged, that a sick girl in possession of a tiny budget must be in want of a new craft. This time an old dalliance turned into a proper relationship — yes, reader, I have taken up knitting. We've flirted on and off for most of my adult life, acknowledging each other's potential with intrigued glances, but never ready to commit. This time, however, it feels so right that even my grumpy wrists cannot hold me back.
True to form I've jumped straight into a sweater (the Tumble Tee), because beginner projects bring me to Tears of Boredom (which are even worse than Tears of Not Understanding How Knitting Works). There has been some YouTube-searching, Icelandic advisory messaging, and mum-support needed — as well as one single, frustrated tear — but I'm certain it will be worth the effort. It's rare, after all, to find a craft willing to lounge on the sofa with me for hours, listening to Rupert Degas read us The Kingkiller Chronicles while staring at the moon.
I've also made as much autumn food as I could manage. I don't follow recipes, but rather… concepts, like: chunky bits of vegetables (peppers/cauliflower/shallots/carrots/red onion) + often protein (salmon/chicken) + more flavour (whole garlic cloves/seasoning/herbs/lemon slices/red pesto/tiny bits of cured ham/feta) + sides (potatoes, rice, pasta, bread, just alioli). Being able to just chuck stuff into an ovenproof dish for half an hour, and then having delicious food enough for several days is such a spoonie hack. The chopping and peeling isn't always possible, of course, so I try to freeze at least a couple of portions for Future Maria.
Thoughts
I wonder how many people out there keep having endless versions of a conversation that goes:
A: "I think/feel X."
B: "I think/feel differently."
A: [feels B is saying A is wrong] [argues for viewpoint A]
B: [feels unseen] [tries again to share viewpoint B]
A: [feels even more attacked]
B: [feels even more unseen]
[tension intensifies]
Seemingly Official Autumn Things™ I don't like: Baking. Cinnamon (mostly). Scented candles. Spooky books. Scary movies. Tea that isn't chamomile or red fruit tea (and even those can't be the floral/vanilla ones, I need a bit of tartness). Drinking from enormous mugs with thick rims. Chunky/thick sweaters. Typical fall decorations. The colour palette of oranges and browns.
Seemingly Official Autumn Things™ I do like: unscented beeswax candles. All the savoury foods (Mushrooms! Stews! Root veg!). Cozy folksy music. Stormy weather, firmly telling you to stay inside with a book. Books that aren't spooky.
Reading
Assassin's Apprentice by Robin Hobb. I've often heard this mentioned for people who like Rothfuss's writing, and in a way I can see why. Some bits were quite clever, and I really liked the amount of information the reader is given; just enough to keep up, but still allowing for surprises and clever twists. That being said, the characters weren't my jam (with the exception of the Fool, who is exactly my kind of jam), and spending so much of the book with a child protagonist made me even more impatient. Will I read the rest of the series? Meh, we'll see. January tends to make us desperate, after all.
The Name of the Wind by Patrick Rothfuss, read by Rupert Degas (re-read). Ever since my brain could magically handle text books again, I've hardly listened to audiobooks at all. With this one, though, I actually prefer the audio version, especially as it combines so well with knitting. To me this book is especially perfect for autumn – there's something so sensory inviting about the descriptions, where even a simple innkeeper polishing his bottles (no, that's not a euphemism) becomes something beautiful, even moving. This is one of my absolute favourite books, as I suspect most of you know all too well by now, so I'll spare you any further raptures. Except to say, you know, if you haven't read it yet, it is hereby recommended.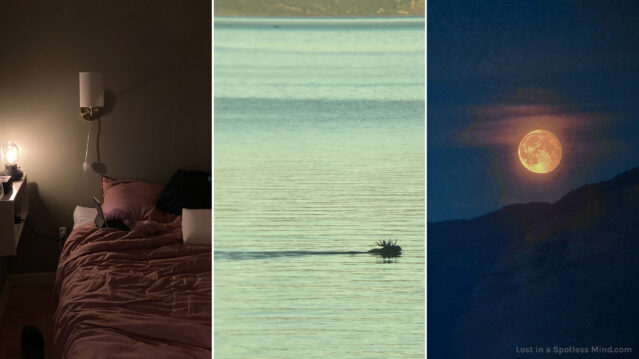 Watching
"Verden er min" (2022), a Norwegian show freely available on nrk.no if your device is in Norway. It's one of those short, character-focused ones that remind me of Fleabag and Shrill and Insecure (oh, and the serial version of High Fidelity with Zoë Kravitz). I watched it all in one day and liked it a lot.
"Rings of power (2022-)". I know people have OPINIONS about this one, but to me it's simply good entertainment. I appreciate having a new fantasy show going. I appreciate it not taking the sensational/provoking route of certain HBO-shows. I love the music, and the costumes, and the casting.
"Revenge" (2011-2015). Truth be told, discovering this soap on Disney+ at the beginning of the month was what got me through most of September's Waiting Days. It is a soap, and has so many issues I shan't list a single one, but it was perfect for making the hours go by. I used to watch this show back in the day, and 2022-Maria has had many a chuckle over how, even a decade ago, I always identified the most with the bisexual, nerdy character.
Listening
My acoustic and folk playlist, lovingly generated and curated by the algorithms of Spotify
Aurora
Fireplace ambiences
"Home, before and after" (2022) by Regina Spektor
Wearing
I dyed my hair darker, and cut bangs (it's that start-of-term vibe). A new striped t-shirt that I've been living in because of its softness. My first pair of rain boots in a decade. Experimenting with wearing skirts at home, trying to figure out why some work well for Sofa Life and others feel like a straightjacket for my legs.
Memories
Yarn bonanza. The alone-days that were nice. Long sister-phonecalls. Text chatting with friends. Nerdy book conversations. Brief visits, when I could. A really cozy café trip, when I was finally able to leave the house for a while. The Great Sensory Aha about drinking sodas from cans.