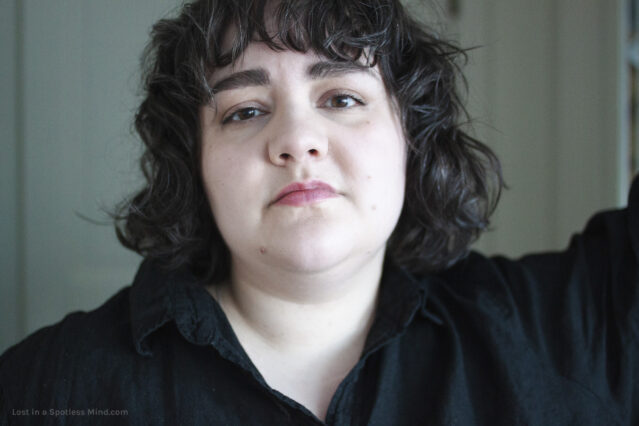 As I was working on the blog post about my style commitment for 2022, I found myself repeatedly putting in sections explaining, say, how I no longer care about dressing in a flattering way, or how different it is to look for clothes now that I'm properly plus sized. I decided to write a separate blog post about this —  a style prologue, if you will. So much has changed since I last wrote about clothing and style, and if you're reading this with 2012-Maria in mind, it'll just get confusing for all of us.
So, what's changed? Well, ten years have passed, so basically everything! But let's stick to clothing-related changes for this blog post, shall we?
First, I've been working hard on my relationship to bodies in general, and my own specifically. I've always been adamant about how all bodies are good bodies, and that nobody needs to care about style rules. Still, reading through some of my old stuff I can definitely see how I was proclaiming body positivity in one sentence, and in the next commenting in an undertone that "I don't think anyone would look good in that".
I can see why: though my principles were honest and well-meaning, I had a lot of privilege that made me ignorant of many things. I was also doing a weird balancing act of professionally teaching a personal style curriculum (that was still focused on flattering), while trying to inject my own values into it. It was confusing for me, and must have been for my students as well!
Confusing things even more was how I've always been practical (some might say cynical) enough to know that there is power, and a skewed kind of protection, to be found in following the rules. We all know this to some extent (and some more than others), that how you dress influences how people treat you, and the repercussions for being a rebel can be much worse than a snide remark or a glare. So I wanted to share my knowledge, because I wanted people to have that power, to have the option to play by the rules if they wanted or needed to.
This is a perfect example of good intentions that don't really help with the root cause of the issue, though, which is why I've since removed those old posts of mine. I think it can be possible to talk neutrally about how garments can create all sorts of optical illusions and shapes, solely for creative or aesthetic purposes, but the world just isn't there yet.
(Also, telling someone to "act right" to be treated well by others is always shit advice that just makes things worse.)
For me personally, I've had a long period of actively dressing opposite to how I knew I was supposed to. I'd realized that flattering pretty much always comes down to making you look thinner (and often also whiter, younger, straighter, more gender-conforming). People will wrap it up in other words, say it's about "looking your best!" or "wearing what suits you!", but if we're honest with ourselves, they all boil down to the same thing: don't look fat.
Oh, yes, I use that word now, fat.
Definitely about myself, and about others if I know this is the word they prefer. It can be such a loaded word, can't it? Most of us have been taught that fat is a bad word. We've been taught it's not just a neutral description of a body, but a description of someone's morals, health, values, knowledge, and worth. To me, after lots of work, it's become as neutral a word as "brunette" or "short", and it no longer gives me an internal flinch when I use it this way.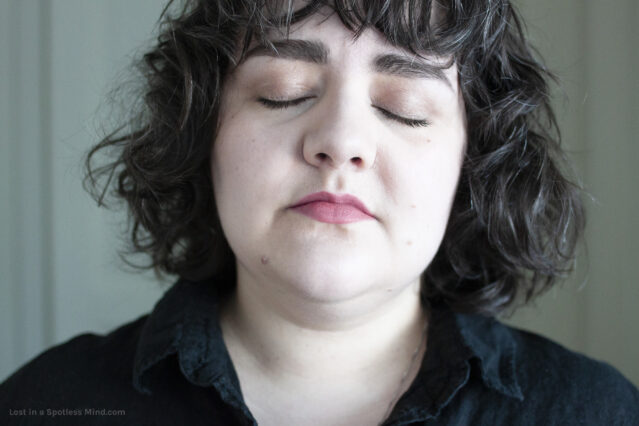 I didn't arrive at this place by myself, though. It's been a long process of learning about diet culture and anti-fatness, racism and ableism, gender and class. They're all connected in how they dictate which bodies are okay and which aren't. It's also one thing to agree on something in theory, and another to actually change how one personally feels in one's own body. For me it helps to get my principles in order, as it gives me something to fall back on when I'm having a rough day. Because yes, of course I still have those. The difference is that most of the time they start because of something out in the world, not from my own thoughts or feelings.
I'm not gonna lie: it makes me angry and sad that after all the work I've done, there are still so many things I can't change just by working on myself. I can't, for instance, love myself into having more access to clothes in my size, or prevent doctors being prejudiced against me, and treating me poorly because of how I look. And there are so many people out there who are bigger than me, who get treated even worse, and have even fewer options.
Fortunately, there are also some pleasant surprises of safety and solidarity. Like when someone I love pointedly refuses to laugh at fat jokes on TV, or a sewing friend checks whether a sewing pattern comes in my size before recommending it to me. I know it can feel risky to touch on the subject at all, so I genuinely appreciate any effort to learn or support, even when people don't use the right words or know all the facts. Someone trying at all can create a safety I never take for granted, and it makes me feel like they care about all of me, that they don't see my body as a problem.
With all this in mind, the idea of flattering just wasn't something I wanted to care about anymore.
In fact, there were many things I felt I had to be or do in order to be acceptable, so I rebelled against them all, spending years actively reprogramming my brain to see beauty in new things, and also to give beauty less importance altogether.
I wore boxy tops that hid my waist (the single part of my body everyone praised, which is now less defined than it used to be). I wore turtlenecks (even though I have large breasts and a double chin). I got used to not wearing makeup (for the most part; naked brows still make me feel naked). I stopped occasionally dyeing my hair, getting used to, and then liking, my greys. I stopped wearing bras. I went months and months without shaving any body part. I wore "shapeless" outerwear, because it kept me dry and warm, and that was enough.
In short, I did everything people describe when they say, with a disapproving sigh, that she's let herself go.
I still have certain kinds of privilege that means I've probably been spared the worst kinds of feedback, but I've still gotten some reactions that were… thought-provoking. It's been absolutely worth it, though. Deciding whether or not to wear makeup, dye my hair, shave bits, wear things I know people see as flattering, or not — it now genuinely feels like a choice, and one rooted in what I want. I don't have to do them out of fear.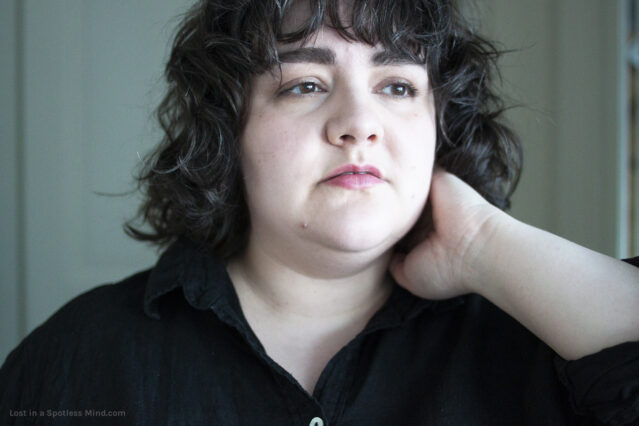 In more practical terms, other changes also influence how I dress. I'm more disabled now, and comfortable clothing has top priority. I'm older, thirty-six in August, so my body has somewhat changed shape in addition to size. I have different priorities. I live in a much smaller town, and am less able to leave the house, so buying clothes is mostly done online.
With being properly plus sized comes a bunch of weird limitations, like how everything tends to be both juvenile and overly mature, or how some shops do want my money, they just don't want me to be seen in their actual stores (did you know H&M have quietly removed all plus sized clothing from their physical shops..?). It's also much harder to find certain practical garments, like snow pants or tights. The lack of colour and actual style is infuriating. Don't even get me started on trying to buy things second hand, or from ethical companies.
As a result I spend much more time trying to find garments that I genuinely need. My closet is far from overflowing, to put it mildly. There's something so enraging about, say, not being able to find a simple pair of rain boots that go over my calves.
It's also been surprisingly emotional to try to feel like myself in what's available in plus sizes. Because that's something that hasn't changed: how I love to express myself through clothes and styling. It can be a language, an art form, a shorthand for what I want to say and who I want to be. Too bad the world insists on giving me such a small vocabulary to work with.
In an attempt to find a workaround, I've been learning to sew. For now, let's just say it's an interesting hobby, and the only way for me to get certain garments I need, but it's by no means a viable solution for all the people who struggle to find clothes in shops.
Interestingly, in the past months I've been drawn to more typically flattering clothes again, like dresses with a defined waist. You might ask whether it's because that's what I've been trained to like, or because I genuinely like it. Is it even possible to separate the two? I don't know. I think so, because it feels different now, but I'm actually more interested in other questions. Like, do such clothes feel fun and good and relaxed, or like something I have to wear to be acceptable? Do my more boxy clothes feel emotionally or morally bad in comparison? If I see someone dressed "unflatteringly", does it make me think poorly of them in any way?
Questions like these have been hugely helpful for me, a sort of emotional temperature check. For a long time I avoided flattering shapes altogether because they felt like a betrayal of my values (yes, I am highly principled, it's just part of my programming). But I've decided it would be silly to avoid things I genuinely like. And I get to determine why I wear them.
2012-Maria would be jealous, I suspect — but mostly proud.