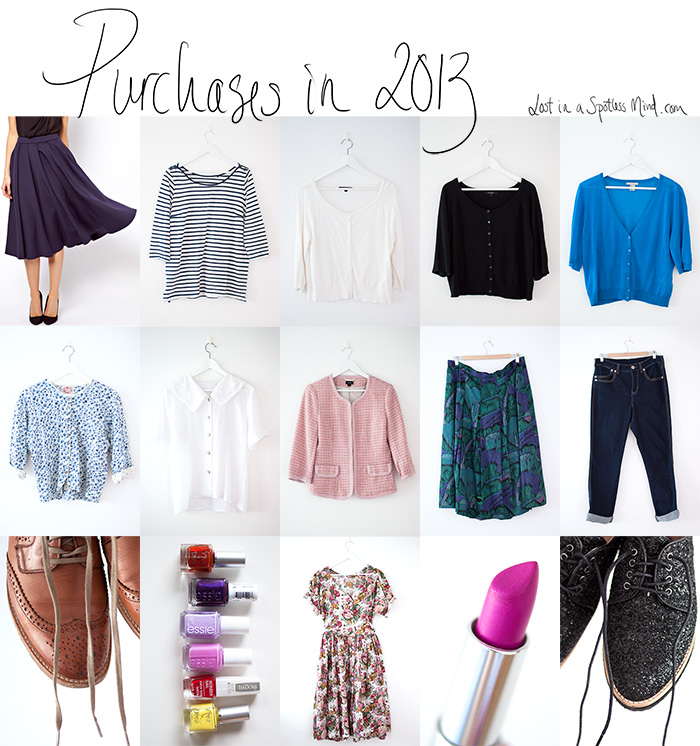 Image is clickable for a much larger size
We're almost halfway through 2013, so I thought it was time for an update on how I'm doing with my shopping guidelines for the year. In short, the intention was to avoid "normal" stores and shop vintage instead, with a few allowed exceptions such as summer shoes. I haven't really had any problems with not "going shopping"; you know, the shopping-as-a-hobby-thing. Yes, I've been a bit bored with my closet sometimes, but all in all, we get along rather well.
The biggest issue I've had is that I was lacking rather a lot of basics when I started this. I suppose doing a major closet clean-out, then going straight into a no-shopping-challenge, without getting those basics first, wasn't very clever of me. Because of that, and because some basics are hard to find in vintage/second hand shops, I've allowed myself some non-vintagey purchases as well. Also, because my weight seems a bit up-and-down-lately, some of my favourite skirts and dresses had to take a vacation to the attic until they fit again, so that cut down on my wardrobe as well. Let's have a closer look at the newbies, shall we?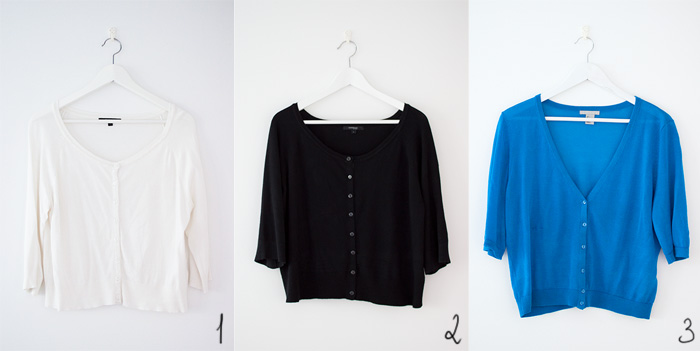 1 and 2. Basic cardigans from Lindex's plus size department. They're 80% viscose and 20% polyamide, which means they're soft and wonderful. They also have a nice cut to them. I find that because I have a large bust, it's hard to find tops that fit me nicely. When a top fits my waist and arms, it's often are a bit too small in the bust area. The shoulder seam gets stretched towards my bust, which makes my arms look wider than they are, and gives a general impression of an ill-fitting garment. Not these ones, though! If I feel inspired one day, I think I'll take them in and shorten them a bit in the waist area, but I've worn them a lot as they are.
3. Another cardigan, this one from H&M. It's 64% Lyocell (which is much like viscose and very environmentally friendly, 29% viscose and 7% silk. Fantastic colour, as it's not turquoise, but still a very bright blue. It looks great combined with red lipstick. Might shorten this one as well, as waist-length cardigans are best for my body shape.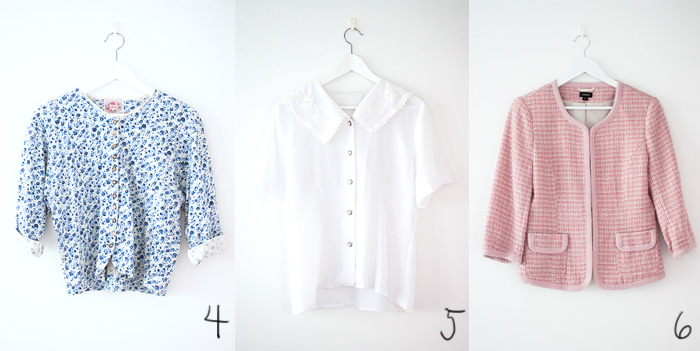 4. Second hand cardigan, bought at Fretex in Harstad during the Easter break. Haven't worn this more than a couple of times since then; I think it's because the pattern feels to "cute" for me and the neckline is a bit higher than I prefer. The colours are nice, but this just isn't right for me.
5. This vintage blouse has a lovely, beaded collar (you can see it better if you click on the top image), and generally a good shape for me. It's a tiny bit small, so the buttons gape at the bust area, but the most negative thing is the fabric. It's 100% polyester, so it gets sticky and weird after a short while. It's also rather transparent, so even wearing a nude bra underneath looks odd. I'm going to take this one apart and use it as a blouse pattern (with a few alterations in the bust area), so I can make tops with the same shape. Also, I want to sew the collar on a different top; it's too beautiful to waste.
6. Originally from Lindex, thought I bought this one second hand as well. Another top that could have worked, but I haven't worn it at all (which is very rare for me). It's a combination of things, really: the colour (too soft and warm a pink for my complexion), the very grown-up/über-classy pattern, and that it's a bit small, so I don't feel very comfortable wearing it.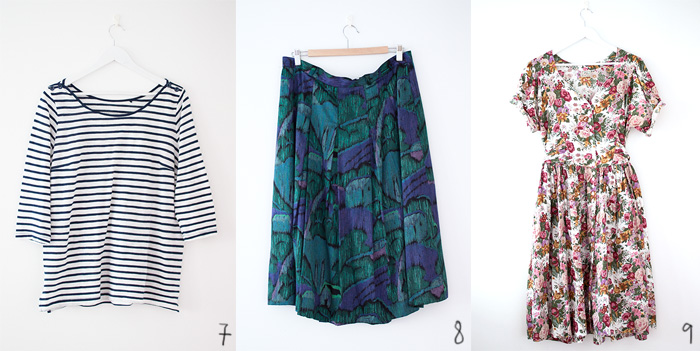 7. Another top from Lindex's plus size department (it's not on their website, but I bought it very recently). 100% organic cotton, with a soft, sweeping neckline and some very flattering darts in the bust area. I'm working on a different blog post where I compare this top to it's predecessor, and why this new one is so much more flattering on me, so there! Something to look forwards to.
8. Look at that print. Bought second hand, the skirt is made of 100% viscose with an acetate lining (which doesn't go static when you walk). It's a bit too big in the waist, but I've been combining it with a narrow, leopard print belt, and it stays on well because of the belt loops. The plan is – do we sense a pattern here? – to take it in and perhaps shorten it as well, but it's still wearable in it's current condition.
9. My vintage wannabe-bridesmaid-dress, which I wear very ironically. It originally had huge shoulder pads, but I snipped them out, rolled the sleeves up, and now it looks rather awesome. There are tiny buttons going all the way down the front, and two ribbons in the same fabric as the dress, to tie in the back. Combine with red lips, hardly any accessories, and masculine shoes for balance.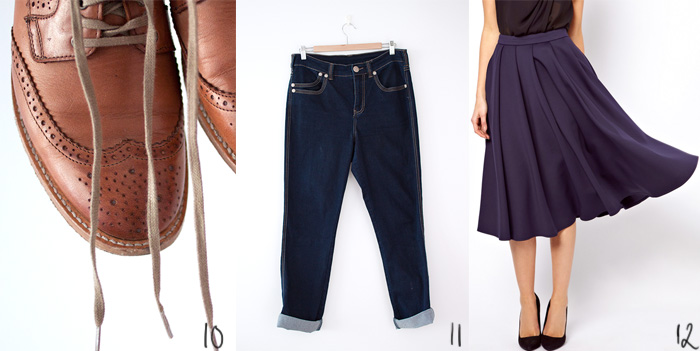 10. The brogues, the brogues! They were the main inspiration for my post on How to take care of shoes, and they make any outfit look twice as good. We do have a bit of a love-hate-relationship going though, as some days they'll be extremely comfortable and wonderful, and other days they'll give me crazy blisters on my heels. We're working it out, though, so don't worry.
11. The perfect jeans.
12. This navy skirt is currently on its way to me, hence the stock photo. Skirts like this one are part of my everyday "uniform", and I lacked one in a more neutral colour. If it fits me well, I suspect it'll quickly become a new favourite.
13. Yeah, so here's where things went very wrong. I wasn't supposed to buy any nail polish this year, remember? But then I had an awful day (in the middle of a whole string of awful days), and these babies at least gave me something lovely to look at. I've worn five of the six already, and pretty colours on my nails really do cheer me up slightly. With both that ME/cfs and the depression and the anxiety flaring up rather badly, I think it's okay to buy a tiny bit of happiness now and then.
14. Lipstick, on the other hand, was and allowed purchase (and I still am allowed one more this year). A student of mine was wearing this shade one day, and I simply had to ask her which one it was – it's Maybelline's Colorsensational in 906 Hot Plum. Comfortable to wear, long-lasting (at least on me), and the perfect antidote to a grey morning.
15. I needed another pair of summery shoes, as I wanted to let the brogues breathe from time to time. So, naturally, I got glitter brogues. Maja and I actually ended up buying a pair each, as neither of us was able to resist the allure of black sparkles.
---
To sum it up, I think I've done as expected so far. It's been very interesting to see and hear other people's reactions to my shopping guidelines. The people who know me really well and think about clothes/style/shopping in a similar way, have been very positive. Others, however, seem to immediately think "yeah, right!" and think I've set myself up to fail. Some even seem to think me a bit ridiculous for even trying this, and have acted straight out condescending when they've found out that I have actually bought some things this year. It seems that my kind of shopping rules don't really count, as I have exceptions and could buy shoes.
That kind of attitude just makes me laugh a bit, though. The whole point of my shopping guidelines wasn't to not buy a single thing this year or else I'm a failure and a mindless consumer, but mostly to make me truly consider a purchase before making it. As I work with style and fashion for a living, I've had to browse the shops now and again, just to keep an eye on what's out there. There have been a few items that made me almost itch with desire, but after a week or so, I've usually forgotten all about them. That white polyester top in H&M really did have a wonderful shape, but I would have felt damp and constricted every time I wore it, so I'm glad I didn't feverishly buy it, then regret it a few weeks later. And that, my darlings, is what those guidelines are all about.