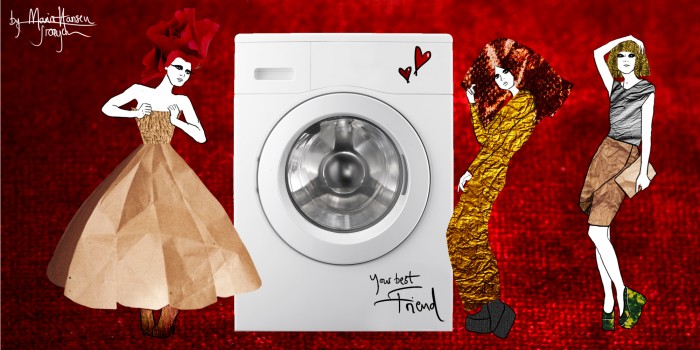 Illustration by me, click for larger version // poses found here and here
I love our washing machine. The first year we lived here, we didn't have one, so we had to use the communal machine in our building. It's in the basement in the next building. We live on the 5th floor. There's no elevator. I'm sure you can understand what a difference that machine did, so it's not so strange that it inspired an entire blog post. The main reason, though, is that I see so many people doing their laundry in a less-than-optimal way, causing a lot more work than it has to be. Be smart. Read this blog post.
Create a good system for the dirty clothes
I'm sure you all know that you really can't wash all your clothes in the same manner. In Norway, all textiles have to be marked to tell us which fiber(s) they are, and most also state how they suggest you clean them. In general, I wash "normal" clothes, bras and tights on 40℃, workout clothes and more sturdy items on 60℃, wool on the wool program, and towels/linens and socks/underwear on 60-90℃. Some items need special care, though, and anything sequined/decorated or particularly fragile I throw in a mesh washing bag. I wash all white things on their own, sometimes including pale greys to fill up the machine, but only things that I'm sure won't colour the whites.
With all this in mind, the ideal laundry system therefore has separate compartments for the various categories and colours. One big hamper usually generates a lot of work, because it means you'll have to spread all the dirty things out on the floor to sort them every time you're washing a load. If you can separate the laundry into categories every time you throw something in there, you'll seriously cut down on your sorting time before each wash. One big hamper also makes it hard to see when you have enough of one category to fill a load.
Still, if you live alone, or don't have that much space, you'll probably be forced to combine some categories. Cookie and I have a small storage system from the Antonius line by IKEA, with three rather large baskets. In one we have items to be washed on 60℃, be it linens or sweatpants or socks. In the second, 40℃ things, dark or coloured. Pale/white items for 40℃ and wool go in the last one. This way, we don't risk a wool item sneaking in with the 60℃ towels, and sorting is at least reduced. One full basket usually equals two loads, so it's easy to see when we definitely need to do laundry.
Use the right detergent
No, you don't need ten different kinds like the commercials want you to believe. But you do need at least two, one for "normal" things and a special one for wool. You see, regular detergent weakens wool, so some of its awesome qualities fades away. Not good. In general, knowing your fabrics is a good idea if you want to be a super-washer. Oh, and perfume in detergent can be a troublemaker if you've got allergies. Many are also very heavily perfumed, which is a particular bother if you've got a hyperactive sense of smell. I do, so pretty much everything smells something, which means things intended to smell usually gives me a headache and/or makes me nauseated.
A second round of spinning
This is my favourite laundry trick. Our washing machine allows us to run just a round of spinning, which makes the clothes a whole lot drier. I even do it with wool, in fact, I particularly like doing it with wool, because it shortens the otherwise painfully slow drying time considerably. "But Maria," I hear you say, "won't that damage the clothes"? The short answer: no.
The long answer: take a look inside your machine next time it's spinning (if your machine has a glass door, I mean). See how the clothes are pressed against the inside, pretty much not moving at all? That, my dear, is because of the centripetal force. The clothes will usually be less damaged being pressed against the inside of your machine than they will being hanged up dripping wet, slowly stretching over time. This is particularly good for wool, even if you don't wash it in the machine (which might be best if you've got an old machine). Many sources recommend drying wool by rolling it inside a towel and squeezing it, but this method generally creates more friction than a spinning cycle – and friction is really bad for wet wool.
Shake it out, hang nicely
Okay, I've changed my mind; this is my favourite laundry trick, simply because it saves me SO MUCH TIME later. If you don't believe me, try this little experiment. After you've just washed a load that contains pillowcases, try hanging one up straight from the machine. Grab the other one by two corners, then shake it out thoroughly, and generally smooth out corners and such, then hang. Once they're both dry, compare them. I bet you a cookie (but not Cookie, of course!) the second one looks a whole lot better. It'll dry faster, and be smoother and shaped more nicely than the poor first one.
With clothes, I make sure collars and cuffs are smoothed/very gently stretched. Remember, many fabrics are more fragile when wet. I hang blouses, skirts and dressers on hangers to dry, so they'll have as few wrinkles as possible. Other items are hung so the creases from the drying rack won't be so visible (a big, horizontal crease/fold in the middle of tops never did boobs any favour).
Hang with plenty of space between
When the clothes are out of the washing machine, we want them to dry as quickly as possible. This way, they won't occupy a lot of space, and the clothes won't be in danger of trapped moisture, which can equal a pretty funky smell (or even mould). If you have a load of clothes already drying, then wash something else, try not to mix them on the drying rack, which can make the almost-dry clothes kind of moist again. Also, if you're washing a whole bunch of clothes, you might have to scrunch clothes together on the rack to make them all fit – which is a recipe for lots of unnecessary creases.
Keep air circulating while drying
If drying clothes in your bathroom, keep the door open. You can cut down the drying time in half just by doing this. Also, keep wet towels away from clothes that are drying. Wet towels in general are a major pet peeve of mine, to be honest.
Take down only when 100% dry

This might be a bit later than you think, but I'll make it worth your while. You see, if not-completely-dry clothes are folded and put in a closet (perhaps with other stuff on top), it'll make those folding lines really set, and (again), everything will wrinkle more than it has to. It can even create a slightly damp atmosphere in your closet, which isn't good. As a guideline, remember that different fabrics dry at different speeds. Polyester and acrylics are quite fast, whereas cotton and wool can take days.
If you can't fold right away, hang over the back of a chair

Anyone recognize this scenario? You've suddenly realized you have to wash something, be it panties or towels or the blouse you want to wear for tomorrow's party, but the clothing rack is packed with dry clothes you just haven't had time to fold? So you throw all the dry things in a pile in a chair somewhere, just to make room for the wet things, of course. Except it might be five days until you can manage to tackle that pile, and by then everything will look like elephant skin.
Nobody wants to wear elephant skin. Instead, when you pull the dry things from the rack, hang them over your arm. Then simply substitute your arm for the back of a chair, and wrinkles will be much less of a problem.
Basically: good routines and being smart prevents lot of work later
I might sound like a neat freak, but really, I'd much rather spend ten minutes extra being thorough when doing laundry, than spend hours repairing clothes, ironing and looking for replacements. So… have I won you over? Neat freaks unite!
––––––––––––––––––––––––––––––––––––––––––––––––––––––––––––––––––––––––––––––––––––––––––––––––––––
PS: I created a version of the illustration without the washing machine, too. Here's the 1200×800 px version, and here's one that's 900×600 px.