When you grow up in Northern Norway, you just aren't used to temperatures above 20°C – summers up there are beautiful, but not exactly tropical. Ever since I moved to Oslo, I've been trying to adapt to the fact that summers here really are summers. Sandals are no longer something I'm lucky to wear a few times during the season, but highly functional footwear. Some days are so warm I just can't wear anything with sleeves. Considering fabrics isn't merely something I want to do, but something I need to do to feel comfortable.
Still, each year I tend to forget that just like I need to have clothes for freezing winter days, I also need something for those sweltering summers. This year it hit that drastic point where I realized I didn't own a single T-shirt that was appropriate to wear outside the house, so I had to hunt down something pretty quickly. As always, I had some criteria in mind.
Budget-wise I didn't have much to go on, so it had to be rather affordable. I was in particular need of tops, as most my skirts can be worn year-round. I also needed a couple of sleeveless dresses for super-hot days. I tend to sweat a lot, so I wanted natural fibres, and preferably in black or white, or with some sort of pattern.
I would have preferred to buy second hand or vintage, but light tops have always been the one thing I have trouble finding in vintage shops. Many of them just look washed-out and stained, or the shape is off somehow. I therefore ended up on the high street, leafing through rows of polyester/plastic to find something right.
What I ended up with was this.
The green dress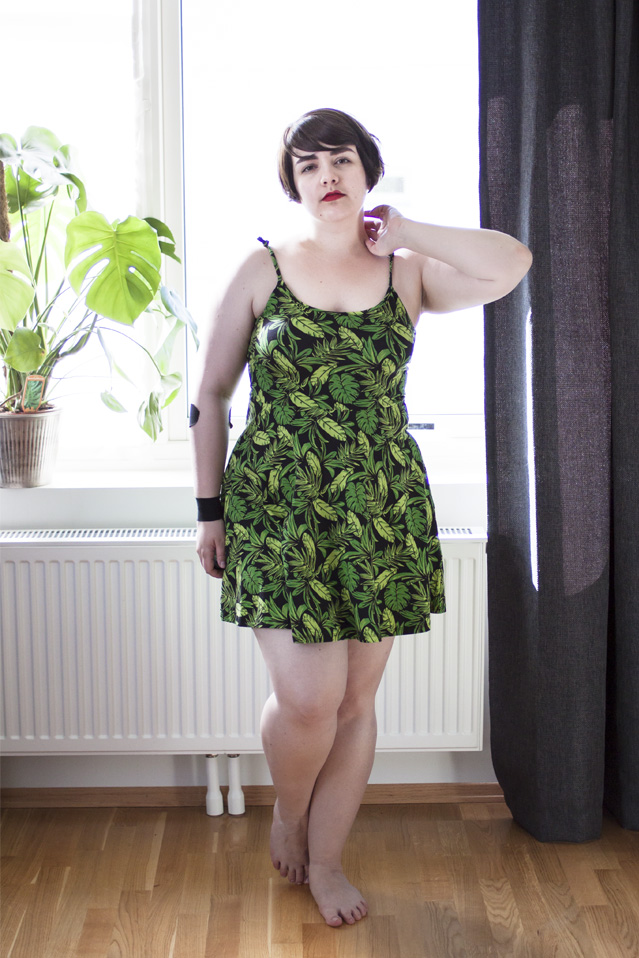 95% cotton, 5% elastane, 99,- NOK at H&M. Green isn't normally my colour, but this print was so summery I was immediately drawn to it. The straps were way too long (hello, short torso), so I've tied them in silly little knots until I can be bothered to shorten them properly. I think we can say with certainty that this was a good buy, because I've pretty much lived in this since I got it.
The zebra top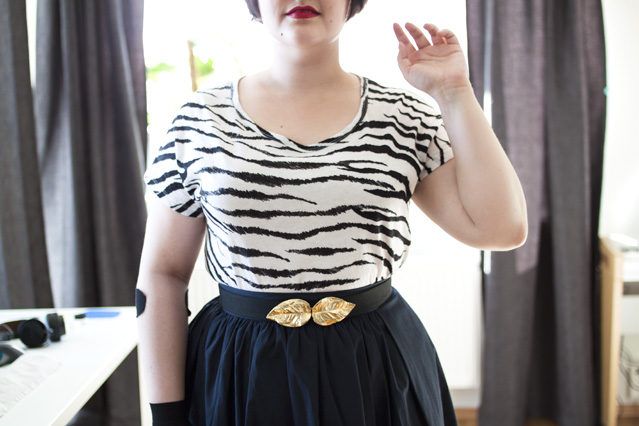 100% cotton, on sale at Lindex for 75,- NOK. Not my usual style, really, but I don't have many tops with prints and liked the zebra pattern. Not to mention that it's delightfully cool and airy, and works with all my skirts and trousers.
Printed skirt & black T-shirt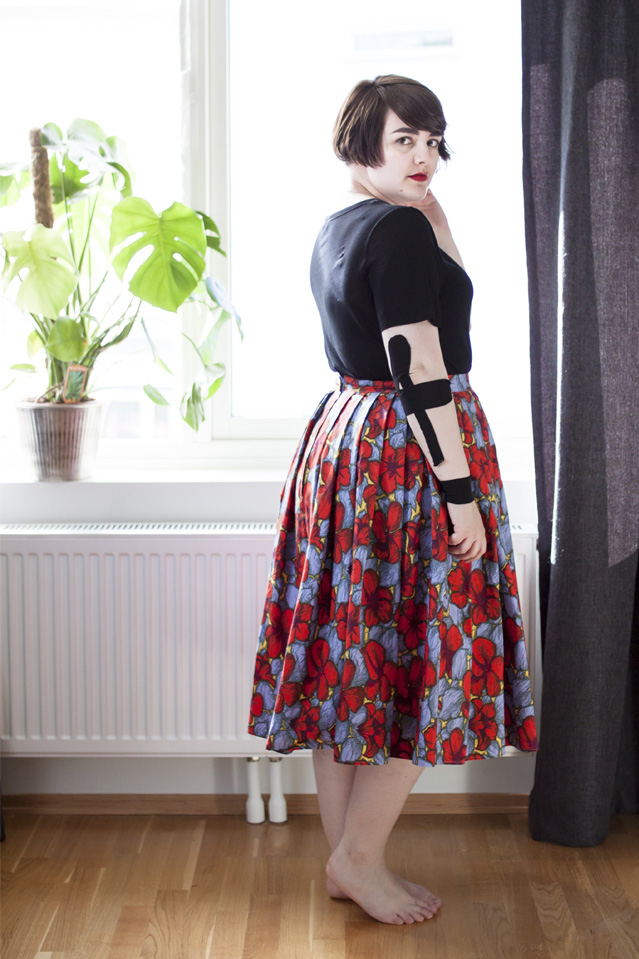 The skirt was an impulse purchase, but I literally couldn't manage to let go once I'd found that fantastic print. 99% cotton and 1% elastane, 499,- NOK at H&M. I especially like how the fabric is rather stiff, so it keeps its vintage-like volume even though it's made of rectangles, not a circle. This also means I don't have to wear a slip underneath to keep it from clinging to my legs, which is particularly good in summer. I always wear biker shorts underneath dresses and skirts because I have thighs that rub together, and biker shorts + a slip dress + skirt = not particularly airy combination.
The top is 100% lyocell, and cost 149,- at Lindex. Lyocell is a relative new fibre on the market. It's made of cellulose pulp, like viscose and modal, so even though it's made in a synthetic way (not like cotton and wool, for instance), the basis is still a natural material, not plastic. This top feels like a mix between the coolness of linen and the softness of viscose. Win!
The white, basic T-shirt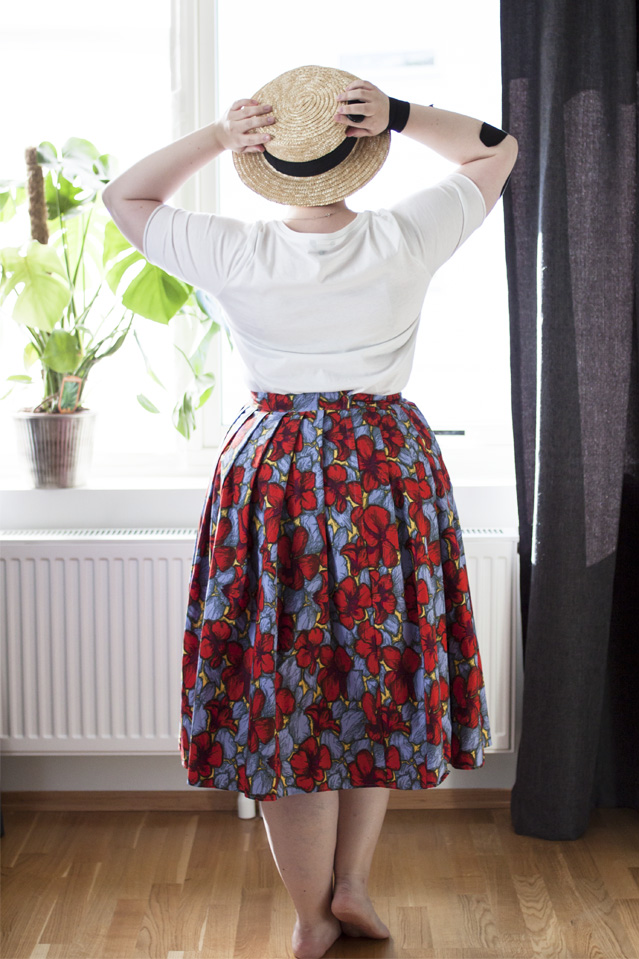 Yeah, I actually didn't have a white basic tee in my closet, which was particularly odd as I love white in the summer. The sleeves on this one have just the right length, and the neckline is a slightly deep V.  95% cotton, 5% elastane, 99,- NOK on sale at Lindex.
The summery LBD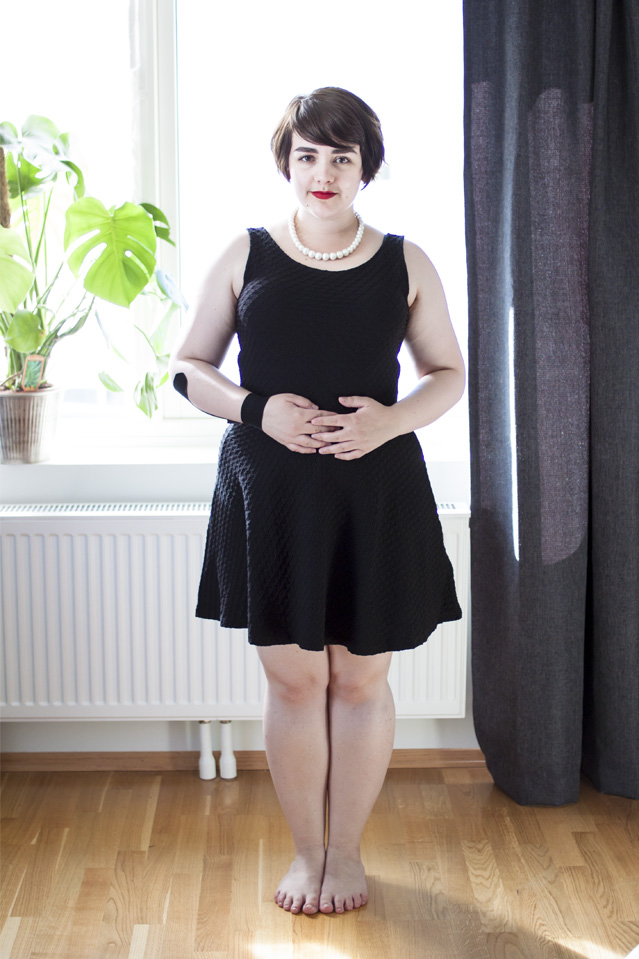 Almost half and half cotton and polyester, with a little elastane for stretch. The shape is very basic, but the texture gives it interest, I think. It works well both with black leather sandals and nice jewelry, but also with my black and white sneakers and more sporty accessories. Just as versatile as an LBD should be.
The almost-bra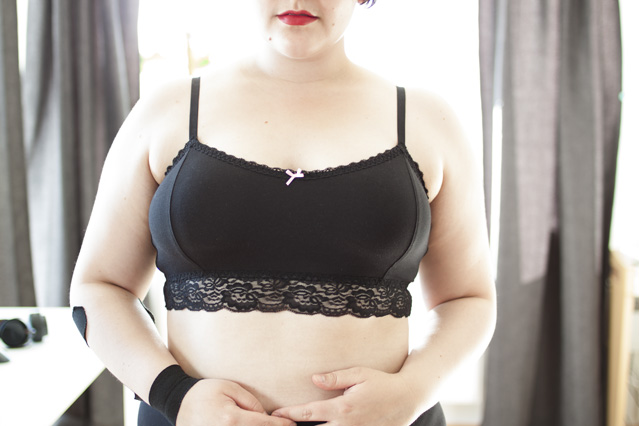 I mentioned this briefly in that relaxed outfit post, because I was so happy I'd finally found an extremely comfortable, chafing-free alternative to a regular bra. 95% cotton and 5% elastane, 79,- at Cubus (I can't find it on their website, but it's called "U Sophia Top"). It doesn't really give enough support for me to wear it going out somewhere, but it's perfect for just staying at home.
Hopefully these will fill that summery hole in my wardrobe – I've already worn many of them several times, so I must have got something right!