When I decided to grow out my pixie, the first thing that happened was that familiar craving for change. If I couldn't make my hair grow five inches in a week, well, at least I could play around with the colour. What you see in the "before" pictures are; towards the ends, what's left of a brown-black, permanent dye; in the middle, what happened with my natural hair colour when I tried a box of L'orèal Sublime Mousse in 700 Pure Very Light Brown (it was an experiment); and along the roots, my natural colour.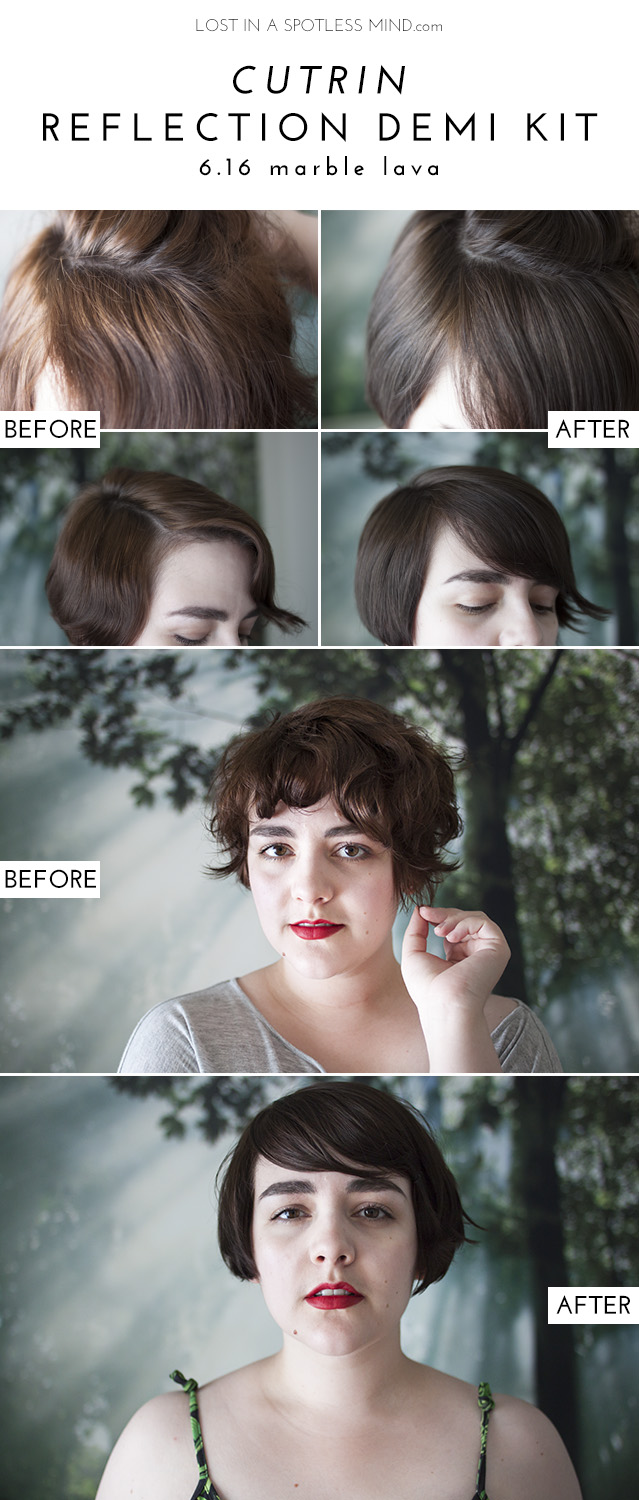 Tha light brown colour was an experiment. What I hoped it would do was lighten all my hair a shade or two. Not enough to be blonde by any stretch, but just enough to make a noticeable change. I guess it did, in a way, it just couldn't lighten what was left of the permanent dye towards my ends, so I ended up with an unintended and hard ombré. After a while, the colour looked rather yellow on me, too, which isn't flattering for my skin tone. Something had to be done.
A previous student of mine suggested I buy some not-quite-permanent hair colour at the hairdresser's, as that could smooth out the colours and get rid of the yellow. I must admit I didn't even know you could buy do-at-home hair colour at a salon, but it turns you absolutely can! I dropped in at a place nearby and asked for a colour that was semi-permanent in some way, and with as cool a brown shade as they come. We landed on one with just a touch of purple in it, which would counteract the yellow I had.
This Cutrin system was rather clever: they have boxes that contain everything but the actual colour, and the colours are ordered separately. This means the salons can order a wider variety of colours without getting stuck with tons of product they can't shift. The box contains enough colour for two rounds on short hair; you'll probably need both "rounds" if your hair is longer than your shoulders. At 160,- NOK it was less than regular box dye, and that's for two rounds of colouring.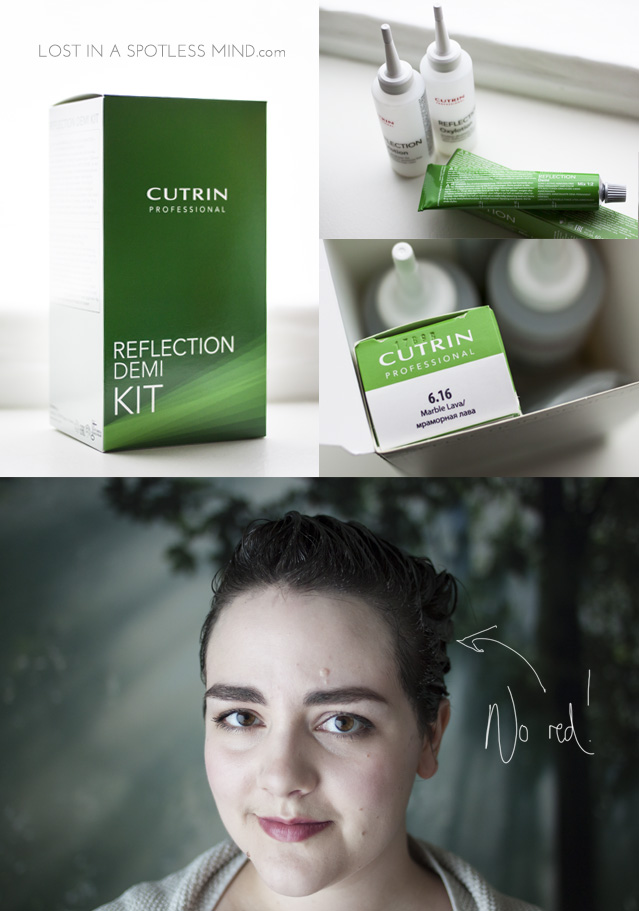 This was the first time I've tried demi permanent hair colour. The "demi" means that it's slightly stronger than "semi" varieties, as the demi opens up the hair cuticles slightly to let some of the dye penetrate the hair; you can read more about it here, for instance. Demi is still less drastic than permanent colour, though, which means its gentler on the hair, but won't give as major a change as permanent dye.
I wrote a list over the pros and cons – you know me, always the organiser.
Pros
– the best shade of brown I've ever found for my hair. I always struggle with finding a really, really cool brown, and this is the first one I've found that truly was cool enough.
– looks utterly natural. When I'd just dyed it, the colour was very dark, but still looked less "flat" than permanent dyes I've tried. After a few washes it went a wonderful, shiny brown, and has faded very beautifully (more on that later).
– more affordable than most dyes I've found. In Norway you usually pay between 100,- and 200,- NOK for a box of dye. This was 160,-, and twice the amount of product.
– no harsh smell. I'm pretty sensitive when it comes to smell (once I sat in the couch and could smell bananas that were in the fridge), but this one didn't really smell much at all, even when smeared on my head.
– no ammonia in this particular dye, which is both good for the hair itself, and for the smell of the product.
– hair feels less damaged than with permanent dye. My scalp didn't react to this either, which it normally always does.
– the colour was easy to use, and didn't stain towels/the shower.
Cons
– the colour does fade a little with each wash. It's now been a month since I dyed it, and the colour is a shade or two lighter than in these pictures (probably from a combination of washing it and being outside in strong sunlight). The coolness of the shade is still there, though, and everything still looks nice and even. There is no sign of the yellow, nor the strong transitions between the "old" colours.
– Cutrin's website states that grey coverage is only 75% for this product. I do have a few greys here and there, but mine disappeared after dyeing. Not quite sure if this would work as well if you have a lot of grey, or if your greys are particularly stubborn, though.
In short, I'm very happy with this. As I'm growing my hair out I wanted a more gentle product than permanent dye. Finding the right colour was essential, as that would enable me not to dye it as often. Whenever I want a boost of colour now, I know just the thing, finally!
PS: As usual, no sponsoring of this post, no affiliation – I just really liked the product.