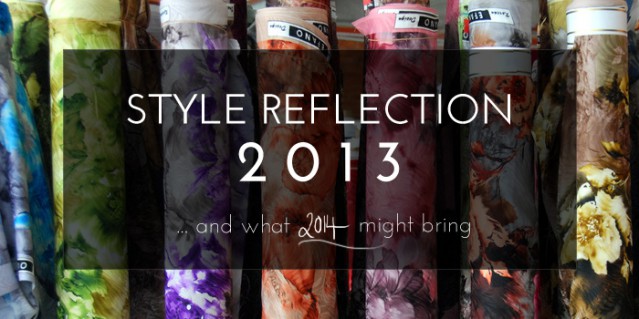 Background image: "fabrics" by Tinou Bao, under a 2.0 license
Although I've never been one for New Year's resolutions, when I read Anuschka's blog post about setting style goals for 2014, I knew I had to reflect over her questions in a blog post of my own. I never could resist a good questionnaire, after all, and anything resembling a list makes me happy as a bunny. Thank you so much for the inspiration, Anuschka!
Before I start, let's keep in mind that 2013 was the year I had rather strict shopping guidelines. You can read all of them here, but in short, the goal was to buy vintage/second hand all year, with a few allowed exceptions. I'm working on a blog post about that whole experience, but for now I just wanted to remind you of it, as those guidelines definitely impacted my sartorial year.
1. On a scale of one to ten, how happy were you on average with your style and your wardrobe in 2013?
I'd say around 5-6. On one hand, I defined my style quite a bit this year, and felt more and more certain of what I want to wear on a daily basis – the trouble is finding those garments. I think I did well in finding the right type of clothes (say, a soft cardigan or high-waisted jeans), but getting the fit right seems almost impossible because of my exaggerated hourglass shape.
2. What was the biggest style- and wardrobe-related improvement you made in 2013?
My shopping guidelines for the year. It had both positive and negative aspects to it, but all in all I learned a lot. Also, 2013 was the year I seriously started thinking about quality. I invested in good shoes and a winter coat, and those items have turned out to be a whole new level of oh yes!
3.What aspect of wardrobe building and refining your style do you enjoy the most and why?
How clothes can create a persona/character has always fascinated me. I love how I feel so differently depending on what I'm wearing, which again affects pretty much everything, from how I walk to how I handle different situations. It's not about becoming a completely different person, but simply acknowledging that I have many different aspects to my personality that I can choose to highlight or tone down as I wish.
4. How well do your outfits express your own unique personal style? What factor(s) are preventing you from dressing 100% according to your style? Money, confidence or an undefined style concept?
I'm probably 60-70% there. What remains is to find solutions to get the fit and silhouettes I want, as they differ so radically from what I can find in clothing stores nowadays. Money is a factor as well, especially as I'm on partial sick leave (thanks probably-CFS, depression and anxiety). I suspect energy is one of my biggest hindrances, though. Unlike many, I have enough time, it's just that most of it is spent on the couch, waiting for those brief periods of time when my body feels almost normal. I've worked out some strategies to deal with illness and still wanting to be stylish (let me know if you'd like to read about them!), but I still have some thinking to do on this.
5. If you had to sum up your look of 2013 in one outfit, what would it be?
My Doc Martens, black tights, a full, navy midi skirt, a soft top with 3/4 sleeves, my M-necklace, red lipstick, and a trench coat.
6. What is your main motivation for wanting to refine your personal style? Do you use fashion as a creative outlet or an expression of your values/personality? Does dressing well give you confidence? Are you motivated by the practical benefits of a refined wardrobe, e.g. to simplify your daily routine?
First and foremost for the creative aspect of it, and because it allows me to silently communicate with the world. Not only can I let people know a lot about me, but I can also use it to create the Maria I want or need on a particular day.
7. How happy are you with your overall shopping strategy? Does your budget tend to get eaten up by impulse buys and bargains? What is your spending philosophy for 2014?
My shopping strategy for 2013 had promise, so I intend to refine and tweak it for 2014. Impulse shopping isn't my problem, but rather that I can hardly ever find what I want. When I do stumble across something that actually fits me well, however, I tend to get so… thankful, I guess, that I sometimes feel like it would be stupid not to buy it. 2014 will probably be the year I try out having clothes tailored for me; I've always avoided it because it felt like such an extravagant luxury, but I'm starting to realize this might be a necessity with my proportions.
8. To what extent do you rely on make up and clothes to give you confidence? Is a lack of confidence preventing you from fully expressing your style concept or trying out new things?
I'm finally at the point where I don't need to wear this or that to feel confident. It's more a question of feeling comfortable. Not in the "everything-needs-to-be-as-comfortable-to-wear-as-sweatpants", but merely that I need to feel comfortable with how I look. As long as my hair isn't desperately in need of a wash, or I'm not wearing a proper bra when leaving the house (which is physically uncomfortable), for instance, I think I can deal with not looking impeccably groomed and styled 24/7. That being said, there are a few tricks I always know will make me feel better: bright lipstick, my dramatic new winter coat, a scarf with a flattering colour.
9. On a scale of one to ten, how expressive, coherent and defined is your style concept?
Probably around 8. I can usually tell within five seconds whether an item is "me" or not, which makes shopping in general much easier. What my current style is lacking, though, is a bit more drama, a bit more pizzazz.
10. On a scale of one to ten, how well-structured, versatile and functional is your wardrobe?
Around 6-7. Most of the items I have work well, but (sorry for repeating myself) there is something lacking in the fit department. Looks like 2014 will be my year searching for the perfect fit, don't you think? I also could use one or two dresses that are more dressed up, for special occasions.
11. On a scale of one to ten, how good are you at creating outfits that express your style concept and maximizing your wardrobe's potential?
6-7 again. I think I can express my style well enough, but I do wish more of my items could be combined. The reason they often can't usually has to do with fit (you know, "this top only goes with that skirt because when I tuck in the blouse my waist looks right"). Getting tops taken in around the waist would enable me to wear them with several types of bottoms, for instance.
12. Top three: Which three components of your style and your wardrobe are you the most confident about and which three components need the most work?
Most confident about: my understanding of which colours suit me, which shapes work, and my ability to find little treasures in second hand shops.
Need the most work: getting the fit right (either by having them tailored, or by doing it myself on my sewing machine), finding loungewear that doesn't make me feel like a slob, and understanding accessories better. Accessories are my Achilles' heel and my kryptonite when it comes to style and fashion. Somehow, I feel like it's way too much for me if I'm wearing both rings and a necklace, for instance. Which is crazy, I know. I'm working on it.
13. Out of the three that need work, which component, when improved, would have the biggest positive impact on your wardrobe and your style?
Actually, I think they're all rather important. The good thing is that some are easer and quicker to fix (such as finding better loungewear), whereas others may take more time, but also give me more in return (being able to adjust a sewing pattern to fit my body, for instance). And being almost afraid of accessories is just silly.
14. Express your five most important goals in a short, motivating sentence each and then start sketching out how you want to achieve or implement them.
– get a better fit: by testing out getting things tailored, by trying to make alterations myself, searching for brands/shops that are especially hourglass-friendly, creating a basic dress pattern that I can use to sew simple tops, dresses and skirts.
– continue being selective when making new purchases: this is especially important for me when the fit is about right, but the style or colour isn't. Also, in times before unusual events I tend to get slightly panicked, and thus less discerning.
– develop strategies to feel put-together even when I'm ill: better loungewear, dyeing my brows regularly (it makes me feel more comfortable without any makeup on), creating a laundry routine so I'll always have something comfortable available.
– work more patterns into my wardrobe: I do like patterns, but not often the ones I find in shops (especially if the fit and shape also has to be right), so if I can sew my own dresses, for instance, I'll have many more patterns to choose from.
– get better with accessories: studying fashion editorials, blogs and street style images to pick up new ideas and inspirations. Then forcing myself to try them out, even if it feels like I'm weighed down with bling.
Finally, I've been thinking about this blog and how I want it to be the next year. I truly wish to be able to blog more often, for instance. I know many of you want more frequent posts, and I really miss blogging when I haven't done it in a while. My body and mind aren't always cooperative, though, and everyday tasks like buying groceries and working have to be a priority, naturally. My plan for the blog for 2014 is therefore:
– not stressing about it if I can't blog for a while.
– focusing on writing useful, thorough posts that might not come as often, instead of writing more wishy-washy posts just because "I need to blog something".
– continuing answering e-mails and comments, though at my own pace and as my health allows.
– taking more outfit pictures once the days get lighter again.
– creating more illustrations. I love doing them, even if they do require a lot of time and energy.
Here's to a stylish and wonderful 2014, darlings!