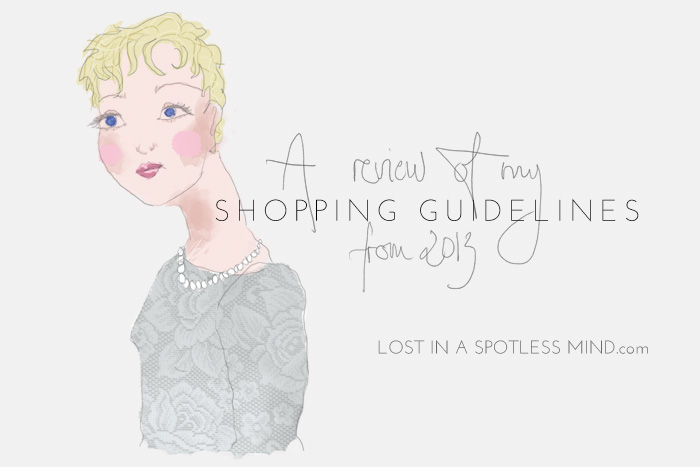 It's time to look at my shopping guidelines from 2013, and to see how I can use them to create new ones for 2014.
1. As a general rule, I won't buy any clothes or accessories from ordinary stores, only vintage/second-hand shops.
In general, I visited second-hand/vintage shops more often than «regular» ones. If I was looking for something specific, I'd visit those shops before «regular» ones. Still, as the year progressed, there were some things I realized would make my wardrobe better, and some of them I ended up buying from «regular» places. It felt like a good general rule, though, and I'm pretty pleased with how I handled it.
How successful: 7.
2. No new nail polish purchases, except if I need to replace my base coat or fast-drying topcoat. A thinner is also allowed, so the polishes I own won't get so thick I can't use them.
I didn't get that polish thinner, actually, and apart from one (rather giant) exception, I didn't buy any nail polish in 2013. I got some as gifts; I think my dear friends noticed how much I desired a few polishes, and made sure to remember them for gift opportunities – thank you! I also needed a new top coat in the early autumn.
How successful: 7 – because I bought SIX polishes at once one time, and that was… well, not part of the plan.
3. When it comes to makeup, I'm only allowed to buy two new lipsticks this year. Excluding those, no new makeup unless I need to repurchase something of which I've run out.
I managed to stick with two, one super bright pink one and a matte, classic red. As with nail polish, though, I got some fantastic lip colours as birthday and Christmas presents, so it's not like I've been as limited on this as one might think.
How successful: 10 – I followed this guideline completely, so I think a full 10 is in order here.
4. When it comes to shoes, I know I'll need new everyday shoes for spring/summer, so that's allowed. But I can't buy ballerina flats from H&M, they need to be of good quality and take good care of my feet.
I bought three pairs of shoes this year: my leather brogues, black glittery brogues, and a pair of white lace-ups in the late summer. Both brogues are exactly what I wanted, but it took me all spring/summer to realize that I absolutely need to wear them with ankle socks, otherwise the blisters become unbearable – hence those lace-ups. They were actually not bad, white with deep green soles and pretty comfortable. I got them for 199,- NOK on sale, though, and they fell apart in the end.
How successful: 9 – because I didn't buy any shoes I didn't wear a lot, none of them were just «fun» shoes, and I'll wear two of the pairs once spring/summer comes around again. One point off for buying those low-quality lace-ups that had to be thrown away, and because none of the brogues were right for the warmest parts of the summer.
5. No more bags, just to get my favourite one fixed so I can use it again (the shoulder strap broke last summer).
Got the bag fixed, yay, and didn't buy any other bags either. I did spend a lot of time on etsy.com LOOKING at bags, or more specifically, backpacks. I have two at the moment, and I'm very fond of them, but none of them are just right, so I'm considering making my own this year.
How successful: 10.
6. As for magazines, ELLE Collections is allowed, but nothing more, as I can read it all at work or online anyway.
Got ELLE Collections, but also a few others during the year; ELLE Denmark being a new favourite. Although we get most Norwegian (and some international) fashion magazines delivered to work, I don't really have time to peruse them, as I don't have any «office time» when I'm there. Not reading any magazines for such a long time made me feel very out of touch with my profession, which wasn't a good feeling. And although I did spend some time on their websites, I'm sad to say that their digital material has a long way to go before it can compare to the print version.
How successful: 6.
7. Replacing knickers/tights/socks is okay, and I plan to invest in some new bras that actually fit me.
This worked out well, though I think I was a bit too strict with myself on this one. A few more knickers and tights would have helped, because as my «stock» dwindled during the year, I had to do laundry more and more frequently, which isn't always possible when there's no energy for such things. 2013 was the «Level 1: understanding how a decent bra works» year for bras, though, and I think 2014 might be the year for «Level 2: buying bras online». All in all, I didn't purchase anything I didn't need, or just because it was pretty, so I think I did my guideline justice.
How successful: 10.
8. Buying fabric to sew things myself is okay, but only if I have a specific creation in mind and know I have time to sew it within a month. I'm investing in a quality sewing machine, which means if there's a hole in my wardrobe I can (hopefully!) fill it by making something myself. In that way it will fit my requirements perfectly, and I won't have to settle for something that isn't right for me. This will also enable me to make adjustments to clothes I already own.
I did get a fantastic sewing machine, so well done there, but ah, fabric. You and I have a way to go, still, don't we? In 2013 I bought my first commercial dress/top pattern, and started adjusting it so I would have my own perfect top pattern. Tops with the right fit for me are pretty much my holy grail, as they're SO HARD to find, so I figured creating/adjusting a perfect pattern would do the trick. Turns out, though, it's almost impossible to do a top fitting by yourself, as every time you try to pin an adjustment, the garment shifts and tugs and messes everything up. It wasn't until a few days into 2014 I finally got this taken care of (merci, Cindy), which means the couple of pieces of lovely fabric I bought in 2013 are finally ready to be made into actual garments.
How successful: 7.
So, what did I learn from 2013?
Well, although I stated that my general rule was to buy second-hand rather than new, I suspect what I truly felt was the goal was to buy nothing, all year. This might in fact have something to do with the Norwegian language and society, because we have two words that can mean «shopping»: «kjøpe» which means to simply purchase something, and «shoppe», which usually makes people think of «going on shopping (for fun)». Also, there was a lot of talk in the media about people having a complete buying/purchasing/shopping ban in 2013, so whenever I explained my own rules to anyone, some people looked like I wasn't doing «it» the right way, because I had exceptions and guidelines rather than a complete ban. Hence, guilt and a sense of failure, which, though understandable in a way, was also silly, because «NOT BUYING ANYTHING EVER» was never part of the original plan.
I also learnt that if you're going to do a ban, or have very strict shopping guidelines, you need to prepare. I did feel prepared mentally; I was sick of the whole world, me included, buying heaps of things and throwing them away a few months later, and was ready to make a change. My wardrobe, however, was not well prepared, especially when summer came and I didn't own a decent T-shirt or pair of shorts. So my intentions were good, but I did set myself up to fail. I also failed to acknowledge that my understanding of clothing, fit and style would grow within a year. I really started to consider the fit of clothes in 2013, and with that came dissatisfaction with much of what I owned; I could see why the garments didn't hang right on my body, but couldn't alter them without more knowledge of sewing and patterns (and also some energy to spare for such projects).
My weak spots definitely became more obvious to me this past year, too. I now know I tend to panic when I have a big work thing coming up (usually a party/exhibition), because the pressure to look «trendy» suddenly feels heavier than usual. I know summer is my least favourite sartorial time of year, because I have thighs that rub together, I have to wear a bra every day, typical spring/summer colours (hello pastels and coral!) don't flatter me, and polyester feels like cling film on my skin. All this combined means I struggle much more to find great summer clothes, and as I haven't found them yet, I keep looking, desperate, each summer. I also realize I will probably always desire nail polish and lipsticks, but there are worse things to be addicted to in this world.
When it comes to gifts, I often felt I was "cheating" if I told someone I wished for so-and-so for my birthday, for instance. I was afraid they'd feel I was merely handing them a very specific shopping list to make sure I got things I wanted, particularly if I wasn't "allowed" to buy the things myself. I know that when I'm giving a present, I like taking time to find something they might like, but also something I want to give them. Otherwise, couldn't we all just give each other money as presents, or even stop giving gifts altogether? At the end of the year, though, I think I found a way I'm comfortable with. I try as much as possible to wish for a "category" rather than a specific item (such as: "a silver nail polish" rather than "The Silver Nail Polish™" from That Brand). Also, when asked, I try to mention more than just one item, so the giver doesn't feel like she has to get me exactly that one thing, or I won't be happy. If there is, say, a specific shade of lipstick I'm desperate for (like "Captive" from MAC), I'll mention it, and then simply be super-happy if I get it. Cookie got me that lipstick from MAC for Christmas, and it has become one of my top three colours. Finally, gifts can be hard to find. I'm always thankful when my sisters mention something they'd love to get, because I struggle so much with finding something for them on my own. So wish lists can be a way to make both the giver and the recipient happy, and they also prevent us from gathering lots of things we don't really want/like/have need for. Everybody wins, the environment included!
In general, I've realized my shopping/purchasing habits aren't really horrible at all. I'm very picky when I consider a purchase, do lots of research, and never buy so many or so expensive things that I get in trouble economically. We've all been told that you can't buy happiness, but, truth be told, some things actually DO make me happier, like a beautiful vintage dress or something sparkly on my fingers. It's not the act of buying that makes me happiest (although I won't deny my triumph when I've managed to hunt down the perfect vintage something). Most of my pleasure in things comes from how they make me feel in everyday life, like how that winter coat immediately transform me to a Russian princess. That red lipstick brightens my face so much that I don't feel like a depressed, washed-out thing when I need to go grocery shopping while sick. Doc Martens boots are practical and warm, while telling the world that I'm steady on my feet, and possibly a bit badass if necessary.
To sum it all up, I'm pleased with my guidelines for 2013. They taught me a whole bunch, and they'll be very helpful when I write new ones for 2014 – which I'll share in a later post, of course.
You might be interested in...