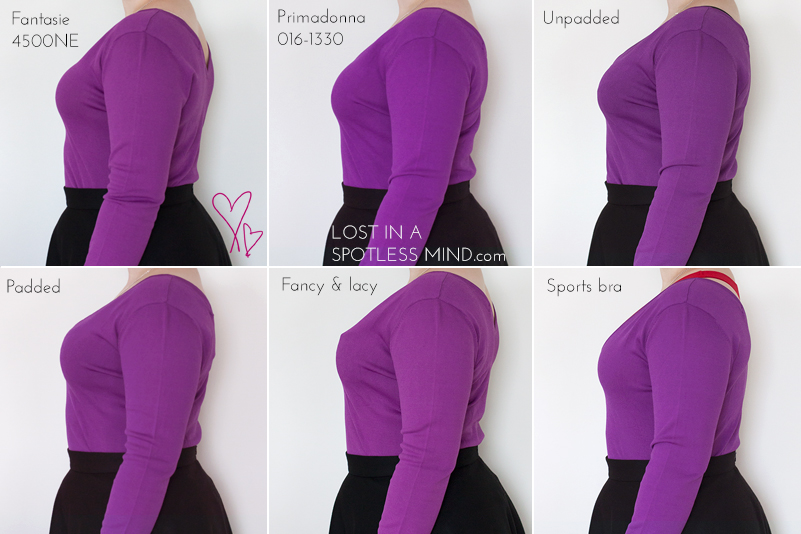 For weeks now I've been frustrated with my tops and dresses, because nothing seemed to fit right. Finally it clicked: I needed a new bra. Books and magazines are always stressing the importance of proper undergarments, but it's not always easy to put the concept into practice. Underwear is something usually only seen by ourselves and our loved ones, so it's more tempting to spend money on items that'll see the light of day. Also, bra sizes vary enormously from brand to brand and bra style to bra style, so even if you can actually manage to find the right size (and how do you know it's the right size anyway?), you'll still probably have to go through the process all over again next time you're bra shopping. The bra selection mirrors the same problems we often find with other garments; it's either synthetics and shabby quality all over, or it becomes shockingly expensive. And if you aren't lucky enough to fit the (very limited) size selection in most stores, well, then it's really hopeless. Right?
Yes, there are many difficulties with finding the right bra. But I still think we should make the effort, instead of settling for some ill-fitting ol' thing, because the difference it makes to the silhouette is pretty astonishing, as you can see from my little diagram above. I'm rather busty, and simply cannot go braless and still be comfortable. Finding the right bra(s) is therefore not just a visual matter, but also to prevent aching shoulders, poor posture and feeling annoyed with a very prominent part of my body. Of course, these are relevant factors no matter the size of your bust, they are just harder to ignore if you're endowed more like Marilyn (supposedly a 36D) than like Audrey (a rumored 34A).
I'm planning a separate blog post dedicated to bra shopping (because otherwise this post would be way too long even for my liking), but I thought we'd start with studying different kinds of bras, and the effect they have on our figure. Let's take a closer look.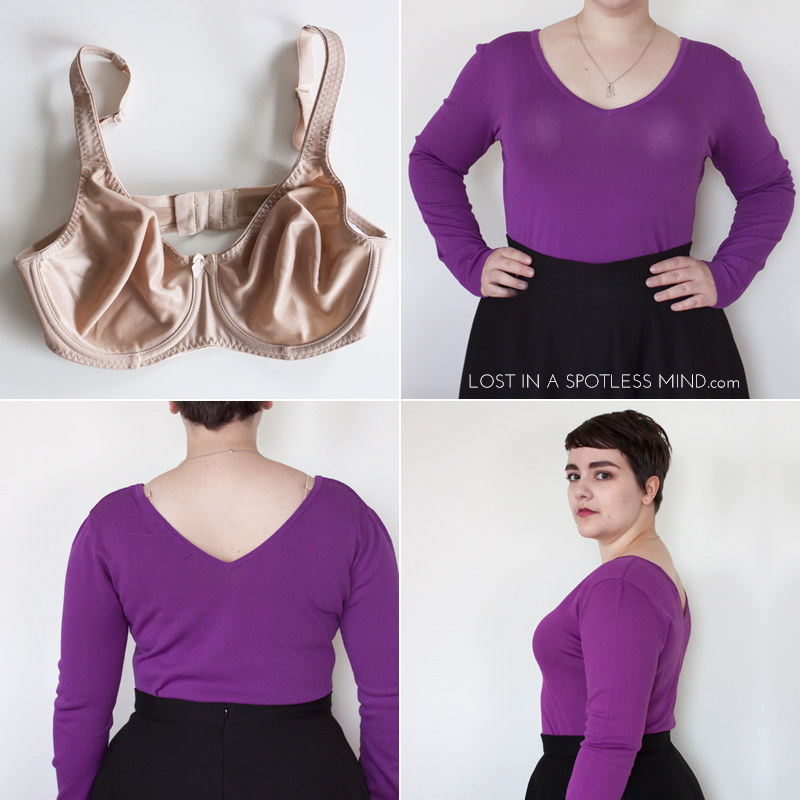 This is the newest addition to my lingerie drawer, the Fantasie 4500NE. It has soft cups without any kind of padding, medium wide straps, and a somewhat separating effect, which hints at the 50's silhouette (though not as exaggerated as a bullet bra). The band around the body isn't too narrow, and the underwiring doesn't go all the way to the outer edge, so there's less chance of it poking me. I'm aware that the bra itself looks almost granny-like, but it does its job so well that I don't care. It's pretty much invisible under all kinds of clothing, the only possible issue is that the cups come quite high, so it might peek up from a low-cut top. Since the cups aren't padded, there's also a chance of showing some nipple, but I'm not too concerned with that, to be honest.
What I really like about this is one is how comfortable it is. The bra provides plenty of lift, but not so much that I feel like an extra in a period movie (you know, where the breasts are pushed so high you can almost rest your chin on them). I definitely prefer my bras not padded, because it gives a softer look that suits the rest of my figure. This bra also separates quite well, in comparison to some of the more shaped and padded bras; those often make it difference to see the space between the breast, which I personally feel can look a bit massive on a larger bust like mine. The underwire stops about an inch before the outer edge, so no poking; I cannot bear poking underwire.
I paid 499,- NOK for it at LaLina in Oslo, and though it is somewhat expensive, it has both a higher quality and better construction than cheaper bras out there. Also, many high street shops have a ridiculously limited range of sizes available, so shopping in designated lingerie stores becomes almost unavoidable if you're not lucky enough to fit the "H&M standard". I wear a EU 75D/UK 34D in this one.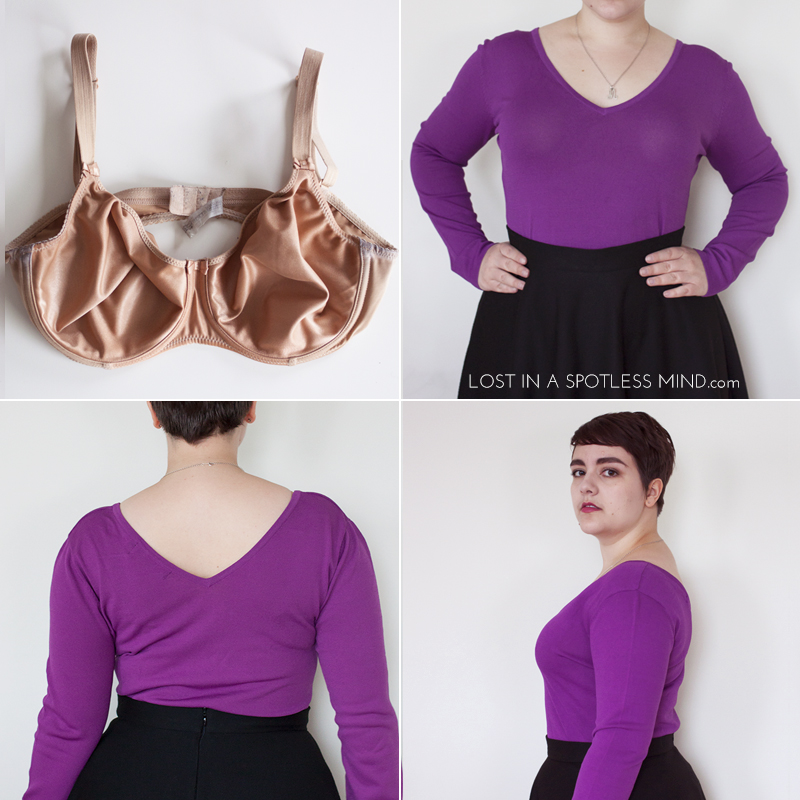 My previous favourite, the Primadonna 016-1330. With this bra I (finally!) took the leap from high street bras to quality bras, and from that moment I knew I could never go back. I wore it pretty much every day for a while, which resulted in its early aging. It is freshly washed in the picture, but the fabric has stained with time, and as you can see from the silhouette comparison picture, it has also lost some of its lifting abilities with time. The model is very similar to the Fantasie one, with unpadded cups and a slight granny-esque look. It cost 599,- at Det Lille Under in Oslo, and is a size EU 80D/UK 36D.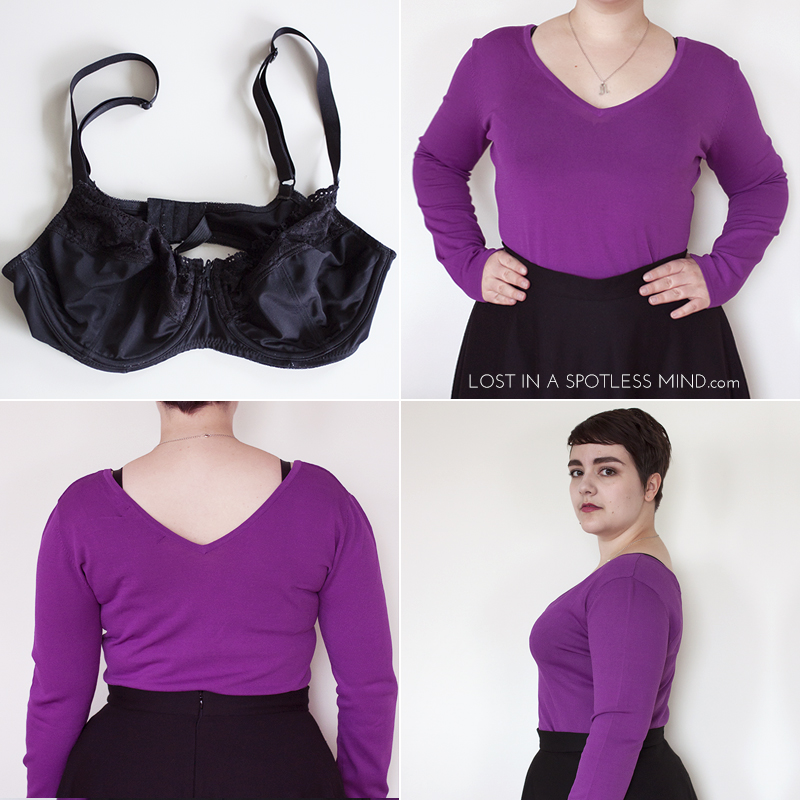 An unpadded, pretty standard bra, bought at Lindex a while ago. This one is also an EU 75D/UK 34D, but as you can see from the profile picture above, the cups are too small for me; a perfect example of how a size differs depending on the bra model and brand. This doesn't provide nearly as much lift and separation as the more expensive models above, even though none of the three are padded. When it fit me properly, I used to wear this on those rare days I wanted to minimize my bust, such as if I wanted a more 20's or 60's look. The comfort is so-so, as the underwire extends all the way to the sides (poke-poke!), and the lace is scratchy.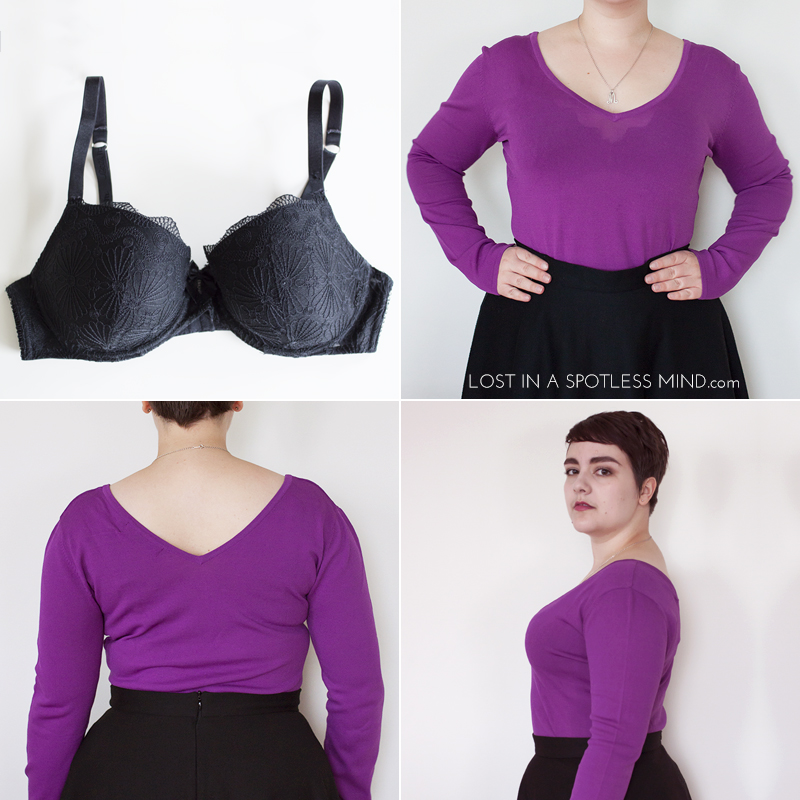 Time for he only padded bra in this comparison. It's by the brand Ella M, also bought at Lindex, and I'm guessing the size is EU 80C/UK 36C. The cups are a wee bit small for me, and the band a little bit too large, but I wear this on days when I can't risk nipples showing through, or when I want to inject some extra oomph to my profile. It's comfortable enough, but tends to ride up in the back, and the band feels very restricting. The lace sometimes irritates my skin, especially around the back.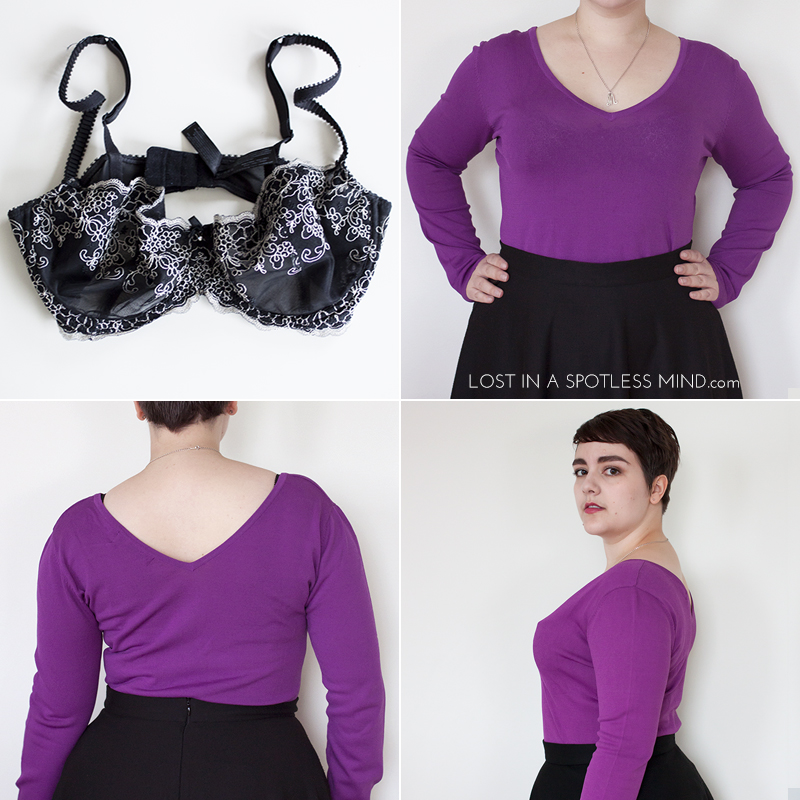 Ah, the fancy lacy one, with a balconette-like shape. Also by Ella M, bought at Lindex – as you can tell, Lindex used to be my go-to shop for bras, because they are usually softer and feel less plastic'y to me than, say, bras from H&M. It's an EU 80D/UK 36D, but, like the other Lindex one, too small in the cups. Because of the lace, it shows through thin clothing, so I prefer this underneath something black and a bit thick, or a crisp cotton dress. This is the bra I wear more for how it makes me feel than how it makes me look; in the future I hope to find a bra that can do both these things well, but for now, I'll don this (or its lavender twin) when I want to feel like one of the ladies in Nine.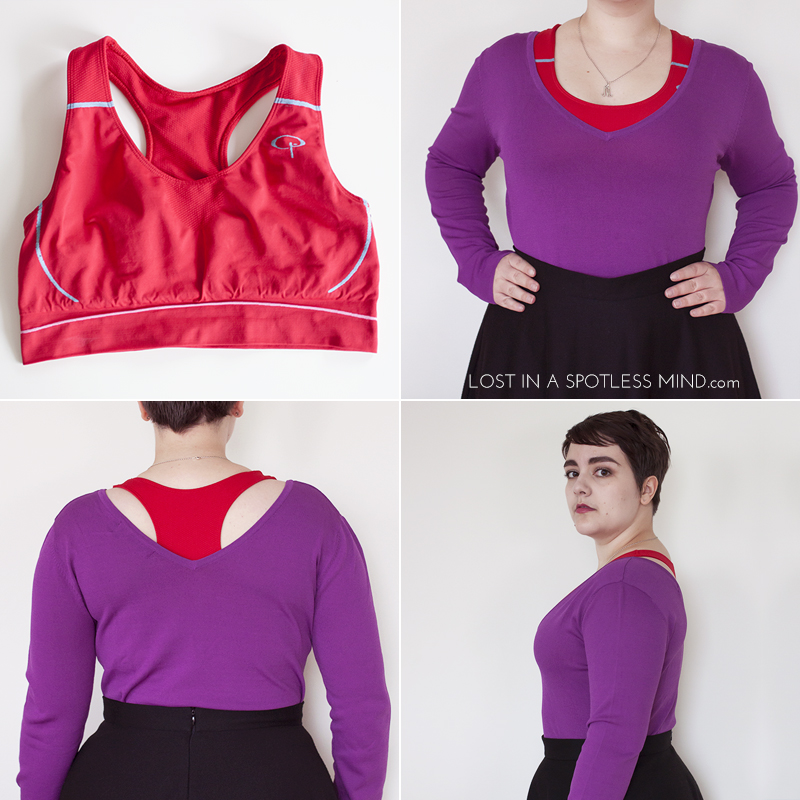 I simply had to include one sports bra here, in part because I know many with a larger bust often end up wearing these as their everyday bra. They are comfortable, at least more comfortable than an ill-fitting bra, and are often affordable and easy to find, in stark contrast to "proper" bras.
Sports bras vary from the super-strong-hold-kinds, excellent for actually performing sports, to the more relaxed versions, better for smaller busts or for just lounging around at home. That's why I have two of these, for my not-leaving-the-house-days. This model, from Pierre Robert and available in most grocery stores in Norway, is pretty tight and firm, so next time I'll go for a slightly softer type. The colour is great, though!
As you can see, the different bra models have many pros and cons, so my number one bra-buying-tip comes here: try on as many different sizes and models as you possibly can. This includes going to multiple stores, in various price classes. You don't have to do all that trying in one day, of course, the point is merely to acquaint yourself with what's really out there, and what your preferences are. How else are you going to find your way in that overwhelming multitude of bras? Hopefully this blog post can get you started, and inspire you not to settle for bras that are merely "fine". We deserve better – as do our breasts.