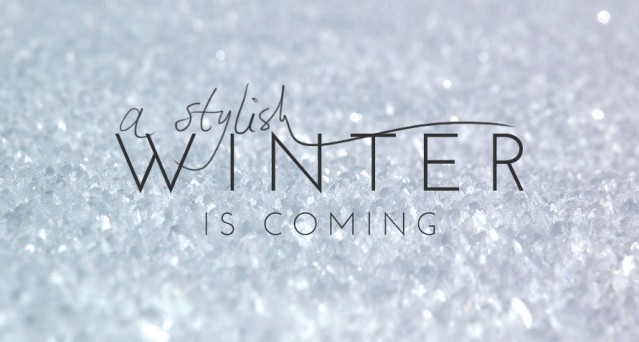 It snowed for the very first time in Oslo this week. To tell the truth, there aren't many aspects of winter I'm looking forwards to; winters in Oslo are, ironically, even colder than the ones I'm used to from my home town in the north. Although I do consider myself a city girl, even I have to admit winter does look better when draped over naked trees and bare seaside cliffs, than over a dirty city with hundreds of stressed people hurrying around. With this in mind, I do whatever I can to make winter preparations as pleasant as possible, and thought I'd share some of my favourite ways with you.
Getting the wardrobe ready
With the soundtrack of (the first) Narnia movie playing, I carefully pack away the too-thin jackets and coats, scarves and shoes. Everything gets checked for stains, rips and other things that need to be fixed, because once a stain has been allowed to set for a winter, removing it becomes pretty much impossible. I condition all things leather. Packing everything gently means my favourite coat won't be horribly wrinkled that first spring morning when all I want to do is run outside, not iron all my outerwear. Now is also the time to locate all those wool camisoles and sweaters, and to make sure I have enough 120 denier tights.
Updating the skin care regimen
All my facial skin care products are still from Paula's Choice, and I know that my system works pretty much all year round for me. I don't pack away my moisturizer with SPF (I use SPF30 all year round), but I've added a moisturizing mask since I've switched to a slightly lighter daily moisturizer. My beloved Chanel no5 is also being used daily; perfume is definitely an autumn/winter thing for me.
Battling dryness
Although my face is surprisingly well-behaved as the seasons change, my scalp and my cuticles tend to completely panic. So, I keep a mini jar of shea butter and a pair of wool gloves in my everyday bag; my way to work starts with a ten minute walk, which gives me plenty of time to rub some shea on my fingertips, then put on gloves to let it soak in for the rest of the journey. I've also done some research for that unhappy scalp of mine, and decided to start CO-washing. "CO" stands for "conditioner only", which means that no, I don't use shampoo on a daily basis anymore. Instead I use a cheap kind of conditioner in the same way I would shampoo, massaging it thoroughly into the scalp and through my hair, then rinsing it out even more thoroughly. As long as I avoid styling products with silicone, the conditioner is absolutely able to clean my hair, and my scalp appears to approve. You can read more about CO-washing here and here if you're curious!
Adding colour
Every time the weather gets cooler, people seem to withdraw into cocoons of black and grey. The rebel in me actually prefers blacks and whites in the summer, and bright colours for winter, so I make sure to wear colours as much as possible when autumn comes around again. This year my favourites are my bright blue coat, a red home-knitted slouchy hat, my raspberry pink scarf, and fuchsia wool gloves. And let's not forget lipstick and nail polish, which always adds some zing.
Pleasurable food
I've become something of a cooking enthusiast the past few years, and autumn/winter is my favourite food season. There's just something about savory, spiced dinners, and desserts with apples and cinnamon and vanilla, that really ticks all my boxes. I also make a pretty incredible (lactose free) hot chocolate, with melted dark chocolate, quality cacao powder, vanilla, cinnamon, chili and a pinch of salt.
Setting the mood
Nowadays I listen to Agnes Obel's new record Aventine, Katie Gray's Love Like Fire, Familial by Philip Selway, and both records by The Civil Wars. The soundtracks from W.E., Chocolat, and The Man Who Cried are also excellent for this time of year. I watch the movies themselves, and others like Last Night, Cracks, Jane Eyre, Sucker Punch and The Perks Of Being A Wallflower – not always for the story, but for the costumes, the light, the personalities and the overall mood.
Cozy surroundings
More blankets, a heavier duvet, thick curtains, fresh flowers, candles, turning up the floor heating in the bathroom, switching to my heavy silk velvet dressing robe – it just makes for a more cozy, comfy home, doesn't it? Oh, and as you've probably noticed, I changed my blog design completely. The new one is called Mellifluous from Blogmilk, and it feels so much more me than the old one. It still needs some tweaking and a few Maria-like touches here and there, but overeall, I think it's rather beautiful; in fact, I woke up today feeling inspired to blog, which hasn't happened since spring. What do you think, do you like the new look?