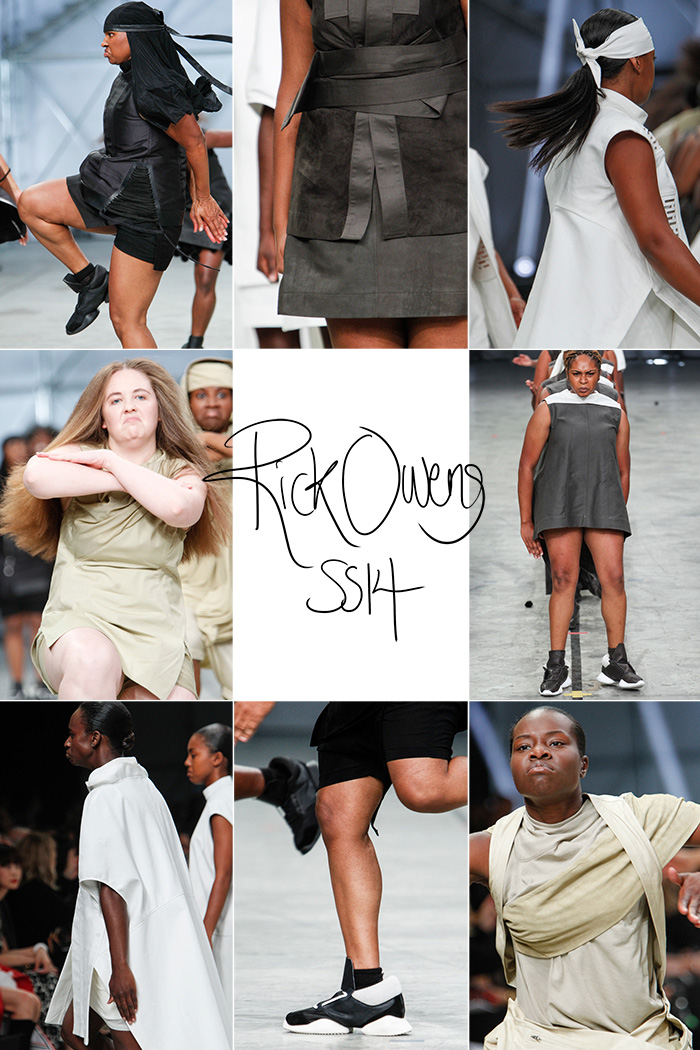 Images from style.com
Rick Owens' fashion show for spring/summer 2014 was held in Paris last Thursday, and has caused a bit of an uproar. No wonder, as the show was rather epic (in the true sense of the word) in it's this-isn't-usually-how-fashion-works-ness. I stumbled across a video from the show via a tweet, then blog post, from lovely Sophie, and sat for six minutes thinking "am I really watching this?". You really ought to watch it on video to understand it, so go on. This is the video I watched first, filmed by someone in the audience (and including a sweet little cameo of The Father of Streetstyle, Bill Cunningham), and here is a high-quality (though also a bit lacking in that oh-what-an-exciting-atmosphere-feeling), official version.
What do we have here exactly? In one way, something quite simple: a fashion show, with step dancers as models. So what was it about this show that got me all excited? Oh, let me count the ways, in no particular order.
Body diversity
Sometimes designers put some plus sized models on the catwalk, but, at least to me, it always feels like it's done to cause a stir, not because they actually believe plus sized people can be proper models. The plus sized models used are mostly one particular shape – that voluptous hourglass kind – and almost always sexualized or more or less naked, as a quick google image search shows us. Also, there seems to be this idea that if you're using plus sized models for something, you need to only use plus sized ones, which just furthers the artificial gap between "plus sized" and "straight sized". But in Rick Owens' fashion show we see bodies of all shapes and sizes and builds, together, and no one of them is singled out in any way.
Movement
Using step dancers as models, and actually letting them dance in the show, means that we can see the clothes from several angles, and in both vigorous movement as well as when standing relatively still. Not only does this give new opportunities to examine and understand the garments, but it also shows that one can actually move in these clothes, which is a huge plus for me.
Dancers
Firstly: how impressive are they? I'm not sure I've mentioned it here, but from I was a little girl until I got sick at about 22, I used to do a whole lot of dancing. Classical ballet, jazz, hip hop, modern/lyrical, salsa, ballroom, yeah, I've tried most of it. But I remember being very aware that I hardly ever saw professional dancers with bodies like my own. At performances, on TV, in movies, not to mention in all the classes I took, it was very rare to see someone who looked like me and was also a talented and appreciated dancer. That sends a very, very powerful, albeit silent, message to a young girl. I'm very glad things are improving in this area, and Rick Owens using these step dancers in a fashion show just makes it even better.
The clothes
Yes, it's always great to see a different or creative kind of fashion show, but as it will still be a fashion show, the clothes are important. Personally, I've had a soft spot for some of Owens' leather jackets and shoes ever since I discovered them when using Polyvore. I realized quickly that these clothes weren't designed with a body like mine in mind, though, which meant that even if I got filthy rich and possibly famous sometime in the future, things from Rick Owens would still be hard to wear. This collection tells me that there might be hope after all (if I do become filthy rich and possibly famous, of course).
Objectively, I like the colour palette, the different materials and textures, the interesting construction, and how they seem both rather wearable and also slightly like costumes from an awesome sci-fi movie. The fit does seem to be a bit off in places, especially on the models with short torso and a swayed lower back (so different from the standard fashion figure), but to me, the "point" to these clothes isn't to follow the body perfectly and be flattering and all that. I actually like that they aren't designed to be sexy or slimming, but rather to express taste and personality. I wouldn't wear most of it personally, but I can still appreciate them, and I do.
A radical sum
This was a professional fashion show, by a very well-known and acclaimed designer. It was shown at Paris Fashion Week, the most traditional and highbrow of all the fashion weeks; only the crème de la crème of designers show in Paris. The models were moving in new ways, their bodies and faces didn't look like those of traditional models, they wore flat shoes, they weren't directed to be sexy or pretty or pleasing. There were more models of colour than white ones. Isolated, any one of these elements would probably have been thought of as slightly radical, but to do all these things at once? That's radical indeed!
In many ways, I'm very fond of fashion and style. I find it interesting, often beautiful, sometimes impressive, now and again provoking, and almost always inspiring. But I'm also getting tired of how far behind the rest of the world the fashion industry can be when it comes to basic areas of life. How a business that prides itself on being forward-thinking and creative, can still be so discriminating and old fashioned, is beyond me. And that is precicely why my heart leaps when I see something like Rick Owens' show for SS14, because it is something different, and new.