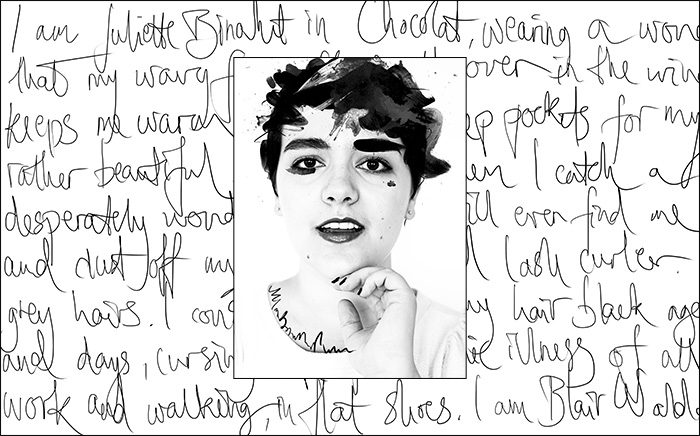 I am Juliette Binoche in Chocolat, wearing a colourful scarf in my hair, brightly coloured clothes and without care that my wavy fringe flops all over in the wind. I've re-discovered that vintage coat with the checkered lining, and it keeps me warm and has deep pockets for my phone and the soundtrack I've picked for the day. I sometimes feel rather beautiful, especially when I catch a glimpse of my reflection in a window on the tram. I sometimes desperately wonder if anyone will ever find me beautiful, myself the most of all.
I listen to Young And Beautiful and dust off my gel liner and lash curler. I get blisters from beautiful shoes, and have discovered my first three grey hairs. I consider colouring my hair black again, change my mind, change it back. I lie on the couch for hours and days, cursing life for chronic illnesses of all kinds, and wear my pajama pants for five days in a row. I dress for work and walking, in flat shoes. I am Blair Waldorf, with dewy skin and pink lips, I am Frida Kahlo with unplucked brows and a serious gaze, I am Zozie with the lollipop shoes and charm aplenty.
I stare at handsome strangers in the street, but look away before they can notice. I give virtual high-fives to other pixie girls, feeling so brave with five centimeter of hair, while still wondering if I should grow it long again. I can suddenly fit that royal blue shirt that used to be too tight around my arms; all my bras are too small and leave painful, red lines around my torso. I stop shaving my legs. I shave my legs.
I am utterly in love with the world of fashion. I am furious at this phenomenon they call fashion, because all it does is exclude me. I work as a blogger, I haven't blogged in forever. I miss it, consider giving it up completely, write long lists of possible blog posts, am displeased with the layout, want to do nothing but draw illustrations an entire weekend. I decide it might be better to write something than nothing, so I write and it's probably not very clever or interesting or even stylish. I decide to write anyway.