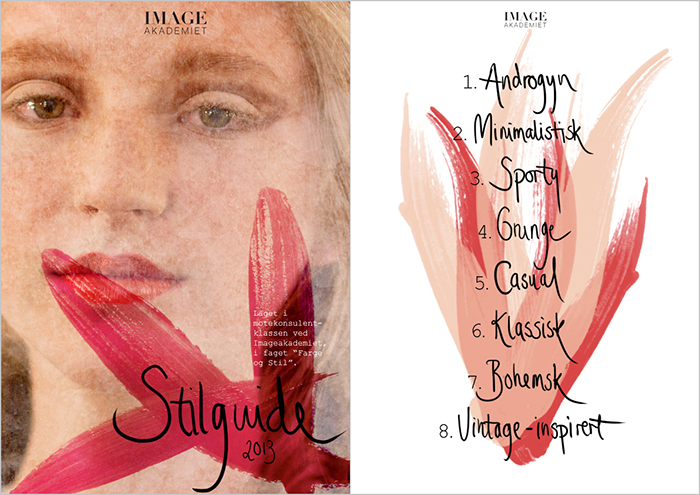 The front page for our style guide, created by me
As most of you know, I work as a teacher at Imageakademiet in Oslo, in their fashion consultant department. I teach many different subjects, including PhotoShop and textile knowledge; lately I've done some classes on writing and photography as well. It's hard to choose a favourite subject, but the class called "Colour and Style" is pretty awesome. In those lessons we study colour analysis, body types, facial shapes, cuts, lines and personal style.
In the weeks before the summer holidays started, we worked on a little assignment I set concerning style types – you know, those clichés like "bohemian" and "sporty". I don't really use those terms to define the style of one specific person (for that we have that Defining Style concept, right?), but they're still a very useful starting point when working with personal style.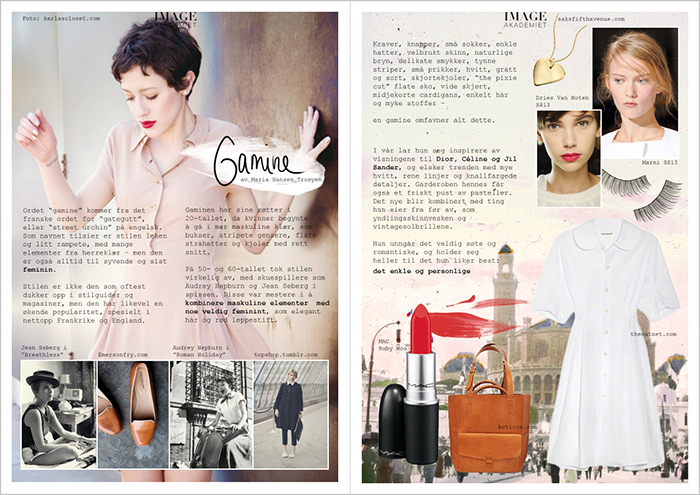 Click for a larger version
The assignment was to pick one of those style types, do lots of research, and then create two pages for our very own little style guide "magazine". I gave them a PhotoShop template with certain fonts and colours to choose from, but otherwise they could be as creative as they wished. Boy, did they do a swell job! Above you'll find the example I created on the gamine style. For you international lovelies: I'm sorry it's all in Norwegian, but I think it's still worth a look. Click the image below to visit Imageakademiet's blog and see for yourself:

Can you imagine, hardly any of them had even tried PhotoShop six months ago, and now they're working like pros. I couldn't be more proud.