My skin care story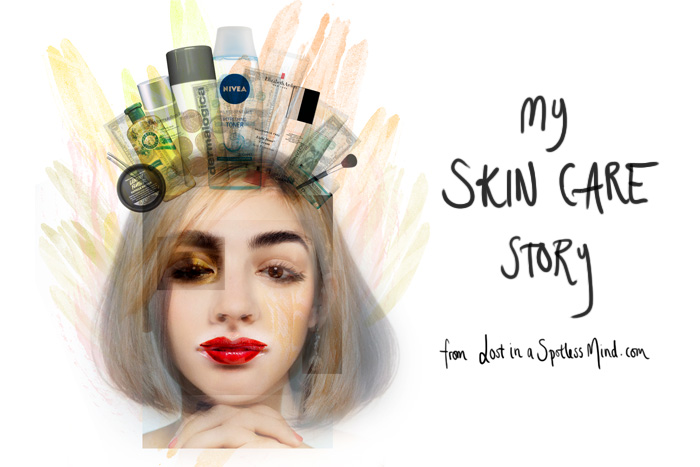 Illustration by me – click it for a larger version
Ah, skin care – a temptress, a jungle, a friend, a foe. For me, the story so far seems to have three parts, which I've fondly named The Blissful Days, The Hunt, and The New Beginning. But before I get to that, let me just describe my skin a little bit, so you know what it's all about. My skin has changed with the years, naturally, but it has always been more dry than oily, and often sensitive, too. After I moved south of the Arctic Circle, it also seems to dislike sun more and more, and I now can't stay more than about fifteen minutes in the sun without burning. Still, it's mostly been pretty well-behaved, and I know how lucky that makes me.
The Blissful Days
When I was a kid, mum would diligently cover me in sunscreen – the smell of Nivea sunscreen (in those blue bottles) is on my top-five-list-of-scents. As I got older, she'd still throw a bottle of the stuff my way, but I couldn't always be bothered. I rarely got burnt, and fun things seemed a more reasonable way to spend time. I was born in 1986, after all, so sun protection wasn't as much discussed back then as it is nowadays.
When I started high school I got intrigued by skin care; more for their feel of indulgence and grown-up-ness than because I thought I actually needed it. I got blemishes and such, as we all do, but not to the extent that I got serious about skin care. No products seemed to make much of a difference either way, really, so the moisturizers and body lotions I kept experimenting with were more for the experience than actual results.
The Hunt
Yeah, those days of ignorance couldn't really last, could they? I moved further north to study, to a city with much harsher climate than my home town, and my skin started feeling very dry and uncomfortable. Around the same time I truly discovered blogs, and stumbled across a couple of Norwegian beauty bloggers that wrote a lot about the ingredients in skin care. Their mantra was one of simple logic: your skin can only benefit from great ingredients, and naturally, quality costs more than the bad or useless stuff. I now know that this logic is simply too simple, but back then, it seemed a gloriously easy way to find products that would really do something.
Dermalogica became my brand of choice, and I settled on their line for sensitive skin. It felt so good to be actually doing something, to make sure my skin would be as good as it possibly could as I got older. I almost ran away from drugstore brands, and was generally judgemental (if only mostly in my head) towards people using brands like Nivea and Garnier. I had seen the light.
Still, those Dermalogica products were a lot of hassle – a cleanse, a spray, a silicone-based gel, an exfoliant – and my skin didn't feel much better. Every time I came out of the shower it would feel very tight, and during the (extremely long) winter it would flake, making it hard for me to play with my developing makeup skills. I tried other brands, carefully using them for a long enough period of time so my skin would get a chance to (possibly, hopefully!) approve. The expensive-is-good-mantra seemed to be failing me, and it wasn't good for my student economy either. I kept searching, but mostly just felt annoyed at the whole thing.
The New Beginning
Like all good revelations, this one started with a date: February the 29th, 2012, was the day I purchased Paula Begoun's The Original Beauty Bible. Just as the bloggers from my "hunting period" had based their advice on (albeit faulty) logic, so did this book – and I'm such a sucker for logic, blame Dr. House. The difference was that although Paula's logic couldn't be summed up in one simple sentence, it was based on actual research. Even better: independent, solid research, not the kind that companies pay for to further their sales. Paula stressed the importance of good ingredients, but also explained how this wasn't as automatically linked to price as I wished to believe.
Of course, by this time I was also about as jaded as the aforementioned Dr. House. I'd read too many articles, too many blogs, and watched too much money swirl down the sink. There seemed to me not to be a single skin care method that I hadn't tried, and rejected. Still, I couldn't resist trying out some of Paula's advice, even only to prove her wrong. She has a website, Beautypedia, where she rates beauty products from all kinds of brands and price ranges. After reading the book and deciding that my skin type was normal-to-dry, and also possibly sensitive, I switched to some of the products recommended at Beautypedia. I chose a cleanser and a moisturizer from The Body Shop, because they were easily available and affordable; also, The Body Shop was one of the brands those beauty bloggers would downright sneer at, so it would be a bit of a double triumph if the products worked well for me.
Funnily enough, they did. My skin was less dry and itchy. It didn't flash red every time I'd "treated" it. It wasn't as glowing as the PhotoShopped ads, that ideal that refused to fade from my retina, but there was definitely improvement going on. I read The Beauty Bible again, browsed Paula's website on my phone before bed, looked up ingredients, and checked the Beautypedia ranking on every product I considered buying. I almost felt a bit embarrassed at how often her book and theories sprang to mind in conversations with my friends. I knew I must sound like I'd just converted to "Paulaism", like I was too blinded by dedication and excitement to realize that this, too, must be too good to be true.
The thing about Paula's philosophy is that it explains matters in a simple, logical manner, but it also acknowledges that skin care is a very tricky thing. Skin type varies greatly from person to person, and there are so many factors involved; everything from which products you use, to genes and hormones and environment and health and lifestyle. Everything would be much easier if there was one set of products that would work wonderfully for everyone, but that just isn't possible. Also, there are many areas that needs more research before we can say anything for certain.
I know this isn't what you wanted to hear. I truly wish I could tell you that "hey, I bought these two, super-affordable products, and now I look like a walking foundation ad – and those products will make any skin look flawless!". I can't, though, because I've promised to be honest in this blog. What I can tell you, are my personal principles about my skin care. They won't work for everyone, but perhaps they can inspire you to figure out some principles of your own. Oh, and yes, they are very much inspired by Paula's book, but that's because they work for me.
My skin care principles:
– being gentle, gentle, gentle with my skin. I've actually stopped manually exfoliating/scrubbing, and use a chemical, BHA-based exfoliator instead. I suspect this is one of the most important changes I've made. Magazines and websites and ads are shouting at us to "scrub away that dead skin, and reveal a younger/more radiant you", but my skin seems to hate violence of any kind. If skin is damaged at all, exfoliating risks making this much worse. Even that all-natural version of salt-and-any-kind-of-oil can do much damage, as it really is just like rubbing salt in a wound.
– avoiding certain ingredients. Mostly, I avoid alcohol (not all kinds, though, just the drying ones) and fragrances, as these always make me itchy and red.
– switching to a sulfate-free shampoo. Just as there are good and bad alcohols, there are different kinds of sulfates, and not all of them are bad. They certainly aren't the devil juice the media claims them to be. I generally avoid the one called sodium lauryl sulfate, as every hair product I've tried with that ingredient has made my scalp sore for days.
– avoiding jar packaging for anything, as air and light are the worst enemies for many beneficial ingredients.
– not using a designated eye cream.
– not believing beauty myths.
– using sun screen every day. Yes, even in winter. This is especially important as I use a chemical exfoliator, because it makes skin more vulnerable to sun damage.
– remembering that natural ingredients/products aren't automatically better than synthetic ones (you can read more about it here, too).
– being nice to myself. Because of life (and sometimes because of my CFS), some days I can't do everything I want, including the two, three or four steps of my skin care regiment. There just aren't enough spoons. Those days, I remind myself that it's not world peace we're talking about, and that my skin is capable of doing many good things all on its own; letting me feel things around me, and holding me together. Not bad for something that's mostly just two to three millimetres thick.
24 Responses to "My skin care story"