How to shop vintage/second hand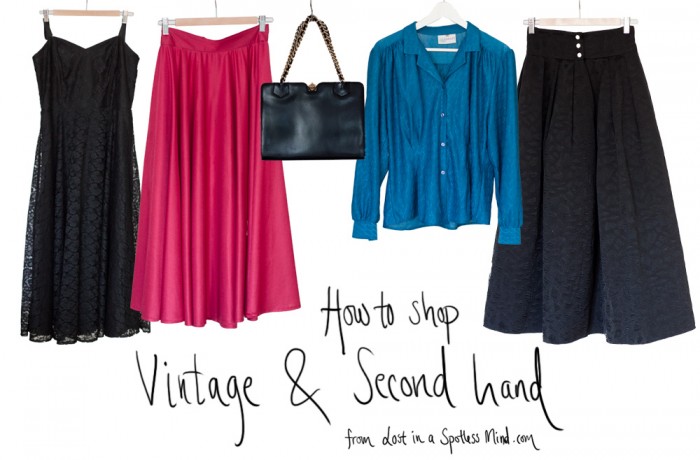 With my new 2013 guidelines for shopping in mind, I've been thinking a lot about how I shop for vintage or second hand items. I was curious as to how many second hand or vintage items I own. A quick look through my closet reveals this: two skirts, two dresses, one dressing gown, one slip, two blouses, one sweater, one top, three bags and three coats (with one more on its way to me as we speak). All of these are items that survived my major 2013 culling – more on that in another post – and I wear them regularly. In fact, out of all my clothes, some of my definite favourites are second hand or vintage. It wasn't always like that, though, so here's everything I've learnt so far, in hope that it will be helpful for you darlings as well.
---
The difference between vintage and second hand/thrifted items: just because something is second hand, that is, previously owned, doesn't mean it's vintage. There is no legal definition to this, but pretty much every website (the Wikipedia one is brief and to the point) and person I've asked agree that the requirement for anything vintage is that it's older than twenty years. This means that anything from before 1993 can reasonably be called vintage. Still, most people in the know also seem to agree that another criterion for calling something vintage has to do with excellent quality. Naturally, any item that's survived more than twenty years would have to be well-made (or hardly ever worn), but still, there is no doubt that in earlier decades, clothes were made to last.
The shops: a quick google search, or conversation with someone local, should tell you where you might find second hand and vintage shops. In my home town, Harstad, the only one I know of is a Fretex, a Norwegian brand of charity shops. Here in Oslo, though, I can think of at least five shops just five minutes away from my apartment; I've written about some of them in my post about nice places in Oslo. No matter which shop you choose, though, it's always a good idea to avoid the rush, so avoid the 3-5 pm window, and Saturdays unless you go very early. Many shops of this kind, especially independent ones, are open on Sundays as well. Getting to know the shop's routines is always good, so ask a shop assistant about when they receive new items.
The markets: my two favourites, Brick Lane in London and Birkelunden in Oslo are both mainly Sunday markets, as are most other kinds of flea markets. This means they're usually always crowded, so getting there early is a must. You'll usually need cash, but remember that pickpockets love arrangements like these, so wear valuables close to your body. Dressing rooms may be poor or even nonexistent, so I like to wear a simple dress and a pretty slip underneath, to make almost-public changing a bit more comfortable. Be prepared by bringing a bottle of water and some emergency food, and remember to take breaks. A friend and a camera (preferably the phone version, so you don't need to carry a heavy DSLR around, or worry about it getting stolen) can be extremely helpful, as full-length mirrors aren't a given.
The mindset: the most crucial thing you need to remember is that shopping for vintage or second hand takes time. Some more specialized vintage shops will do the hunting for you, and only stock what they consider treasures, but their prices will also reflect this (sometimes to the point of ridiculousness). In most thrift stores there will be many items that are horrendous, with bad shapes and fabrics and stains and smells. Don't let not-so-nice items discourage you, and don't lose your patience before you've given it a decent go. Training your eye (I'll get to that in a second) will speed up the process, but you will still have to leaf through a lot of items to find something that ticks all your boxes. You can especially find hidden goodies in a section with lots of black, as most people can't be bothered to look properly at things in that sea of darkness. Chances are you'll visit a shop several times without finding anything wonderful, but then, suddenly, you'll stumble across something so lovely you'll treasure it until it falls apart.
The research: a knowledge of the different decades will be helpful (if you understand Norwegian, Mina has written some superb posts on this). This will enable you to determine how old an item might be, and also give you a better general understanding of the clothing created through the ages. I know, for instance, that the 50′s are definitely "my" decade, because they always wanted that hourglass shape, and that many of the pretty shift dresses from the 60′s will make me look like a big shapeless blob. Understanding fabrics is also hugely helpful. A wool cardigan and an acrylic one should, for instance, be priced differently. And a stain on a polyester dress might be easy to remove, whereas stained cotton can be much harder to fix.
Lastly, it's important to know your limits when it comes to altering and repairing an item. Firstly, do you have the actual skills to turn that tulle nightgown into a skirt? Second, do you have the time and patience to do it? Not to forget, will you actually do it, or will it pile up in your closet? An almost-perfect thrifted dress might be just what you need to finally learn how to hem something… but it can also become just one more thing that gives you a guilty conscience (and no dress is worth that).
The critical eye: sometimes it's extremely easy to get blinded by the fact that "it's vintage!" (especially if all you're allowed to buy for a year is vintage/second hand). Nonetheless, it still needs to tick all the boxes any garment should before you buy it. Is the colour good (and if not, can you wear it anyway)? Is it flattering for your body? Will it work with the rest of your wardrobe? Is the quality good, with nice seams and durable construction? Can you afford it? Do you actually need it? Do you really love it? In addition, buying vintage or second hand adds some extra criteria: is it in good condition? And if not, can you (or a tailor) repair it? Is the fabric decent? Is it worth the price they're asking (and if not, can you try to negotiate one you're willing to pay)?
The care process: this is useful for all your clothes, really, not just the thrifted ones. Knowing how to take care of your clothes will make you look more polished, and also ensure your things last as long as possible. There is something extra sad with watching a lovely vintage item fall apart because of neglect, as it was probably hard to find, and one of a kind. If a dress has survived from the 50′s until now, do you really want to be the person that made it unusable? That being said, your second hand things might not always have had a good previous owner, so sometimes things will tear or pill or wear apart. That's when basic repairs come in, either done by you (or someone you know with nifty fingers) or a tailor. Just remember that stains need to get taken care of as soon as possibly possible, to prevent them from setting.
The final tip: the way I see it, part of the mindset of shopping for vintage or thrifted things is to donate things you no longer wear. Not only is this good for the environment and the general economy, but it also ensures a good circulation of nice things. I'm not saying that you should give away things you love just to get good vintage karma, of course,merely that if you're going to get rid of something, throw it in a donation box instead of the trash.
---
There you have it, all my tips for shopping for vintage… IRL, or "in real life". Shopping for vintage/second hand online means a few extra things to consider, so I'll write about that in a while. In the meantime, practice your skills in real shops, as this gives you a much better foundation for finding treasures online. Have fun, my darlings!
6 Responses to "How to shop vintage/second hand"