My shopping guidelines for 2013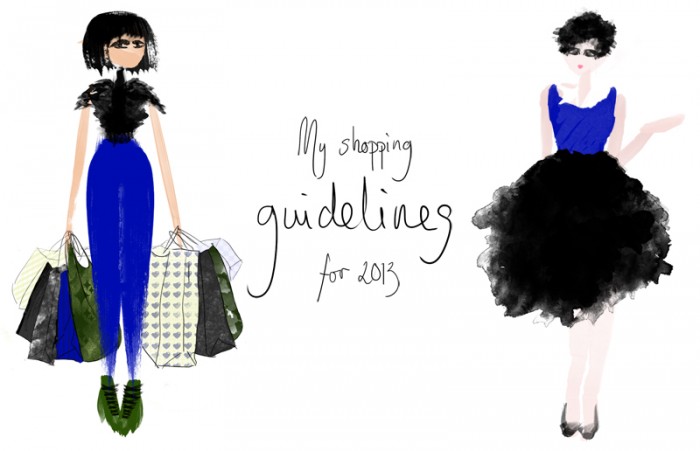 Illustration by me – click for the wallpaper edition (with a different text)
About a month ago I decided to make me some shopping guidelines for 2013:
---
1. As a general rule, I won't buy any clothes or accessories from ordinary stores, only vintage/second hand shops.
2. No new nail polish purchases, except if I need to replace my base coat or fast-drying topcoat. A thinner is also allowed, so the polishes I own won't get so thick I can't use them.
3. When it comes to makeup, I'm only allowed to buy two new lipsticks this year. Excluding those, no new makeup unless I need to repurchase something of which I've run out.
4. When it comes to shoes, I know I'll need new everyday shoes for spring/summer, so that's allowed. But I can't buy ballerina flats from H&M, they need to be of good quality and take good care of my feet.
5. No more bags, just to get my favourite one fixed so I can use it again (the shoulder strap broke last summer).
6. As for magazines, ELLE Collections is allowed, but nothing more, as I can read it all at work or online anyway.
7. Replacing knickers/tights/socks is okay, and I plan to invest in some new bras that actually fit me.
8. Buying fabric to sew things myself is okay, but only if I have a specific creation in mind and know I have time to sew it within a month. I'm investing in a quality sewing machine, which means if there's a hole in my wardrobe I can (hopefully!) fill it by making something myself. In that way it will fit my requirements perfectly, and I won't have to settle for something that isn't right for me. This will also enable me to make adjustments to clothes I already own.
---
Why all these rules, you ask? Well, there are several reasons. Firstly, that I'm very much liking the idea of less stuff in general. Before I left Oslo for the holidays I decluttered the kitchen cabinets, my things in the bathroom (makeup and skin care), and my jewelry. It felt so good to get rid of the things I don't really use! The goal isn't to have as little stuff as possible, but simply not to have things I don't need. I suspect the excellent book "The Joy of Less, A Minimalist Living Guide" by Francine Jay (who also has a blog about the subject, here) has a lot to do with it.
My second reason has to do with style. I have a theory that people who are the kind of stylish I want to be, don't tend to have heaps and heaps of clothes crammed into several closets. I think it will be much easier to get dressed, and to only wear clothes that are perfect for me (both shape- and colour-wise) if my wardrobe isn't full of impulse buys. Also, buying vintage/second hand, or making things myself, means the items will be more special, as they can't be found in hundreds of shops all over the world.
Third, it will be good for both my economy and the environment. Every time I think about it, I find it slightly disturbing that what's most normal is to buy completely new clothes, not second hand, considering how many second hand clothes there are out there. The amount of clothes that are rotting away or simply being burnt out there is staggering. Now, I'm not saying that every time you buy something new you're doing a horrible thing, I just think the whole system is so out of balance that I want to change how I deal with it all.
I'm aware I probably will slip from time to time, and that's okay, I won't hate myself for it. What I'm really trying to do is change how I think (and feel!) about making purchases. It has to be said I'm not much of a shopaholic to begin with, so my guidelines probably won't be as hard for me as they would be for someone who's used to going shopping every week. Still, not being a shopaholic is no reason to rest on my laurels, right? Also, I feel that these guidelines are just enough of a challenge for me. Buying nothing for an entire year simply wouldn't be realistic, especially considering my job.
I'd love to hear if you guys have any shopping "resolutions" for 2013, so feel free to share in the comments. Oh, and happy new year!
31 Responses to "My shopping guidelines for 2013"