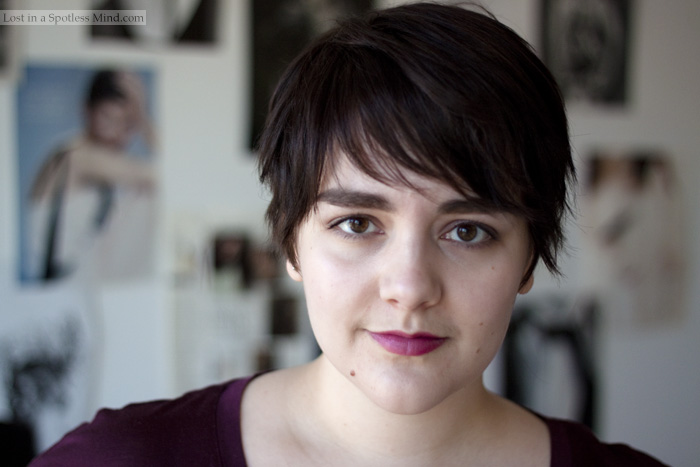 For those of you with already short hair, I wanted to show how I style my pixie cut, in case you're in need of some inspiration. For anyone out there thinking about chopping it all off, hopefully this post can demonstrate how versatile such a cut can be. And for you lovelies with long hair: here's what your're missing out!
Style 1 (above)
Air-dried hair from yesterday, slept in, then blasted with some dry shampoo for texture. The lipstick is 190 Atomic Pink by Maybelline. I like the "pixieness" of this style, but I think it needs some oomph, like a bright lipstick or a wonderful dress.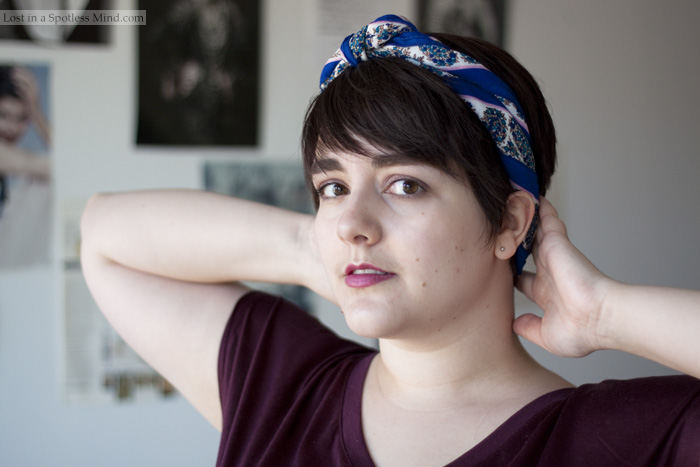 Style 2
The-scarf-as-a-headband, which is good for days when you wish you could hide behind your hair. It also says "fashion" rather well if you team it with an eccentric outfit. My scarf is second hand, the lipstick is the same as above.

Style 3
Curled very randomly with my Babyliss 2360e curling iron – it's 13mm in diameter, which means it can curl even very short hair. After letting the curls cool for a few minutes, I add some L'Oréal studio remix styling paste, and just mess it up a bit, keeping the deep side part I always have. That hair product is brilliant, by the way, I use it almost every day. In Norway you can get it in normal grocery stores, and it doesn't weigh my (very fine) hair down. I even used it when I had long hair, to make it less "slippery".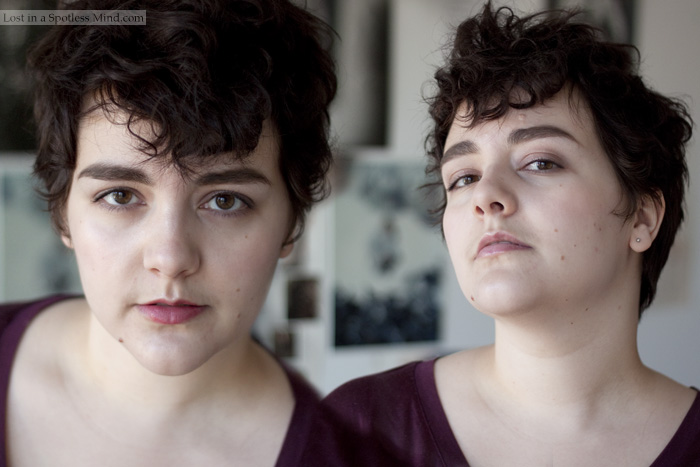 Style 4
The almost-mohawk. I start the same way as the previous style, but instead of keeping the side part, I pull all the hair on top of my head and then forwards over my forehead. The fringe is supposed to create sort of a V-shape. Excellent for days when you need to feel brave/bad-ass/dangerous.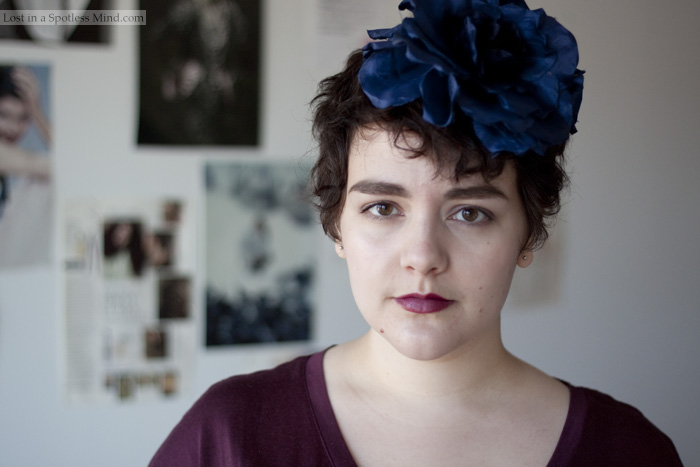 Style 5
More dressed-up and a bit avant garde when paired with dark lips (mine are MAC cremesheen in the colour Hang-Up). Curl, pull towards one side of your head, then add giant flowers. These ones are from H&M. They can be found in a multitude of colours, so make sure to pick one that suits your skin tone.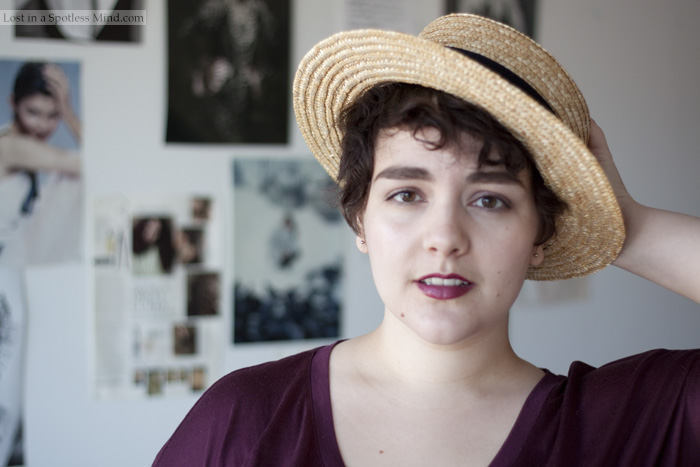 Style 6
The boater. I own four hats, I think, but I never wore them much when I had long hair. There was almost like a curtain of brown hanging down from the hat, obscuring my neck completely, but with short hair my neck looks longer and more delicate. The boater is my favourite, because it's so very French. Can also be worn with straight hair, of course.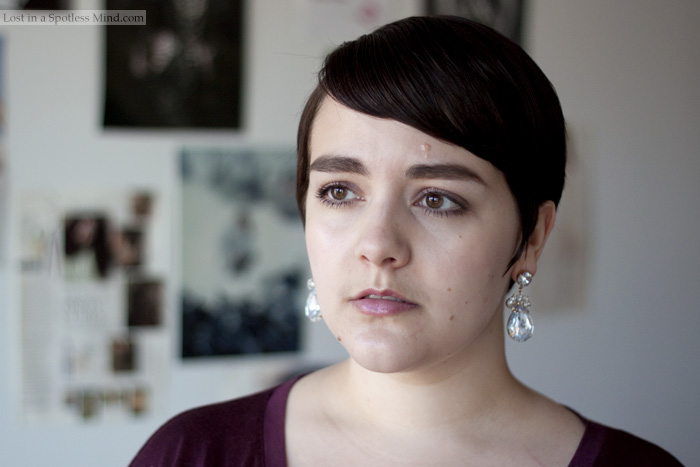 Style 7
In my mind, this is Emma Watson hair; sleek, simple and with a deep side parting. I love her look from the premiere of the last Harry Potter movie, so I often pair it with dark eye makeup. If not, I'll put so much mascara on my bottom lashes that they clump a bit together, like above. Add some classy earrings (I borrowed them again, Cookie, please don't kill me), and keep your outfit simple. The whole point is to let your face and personality be the focus.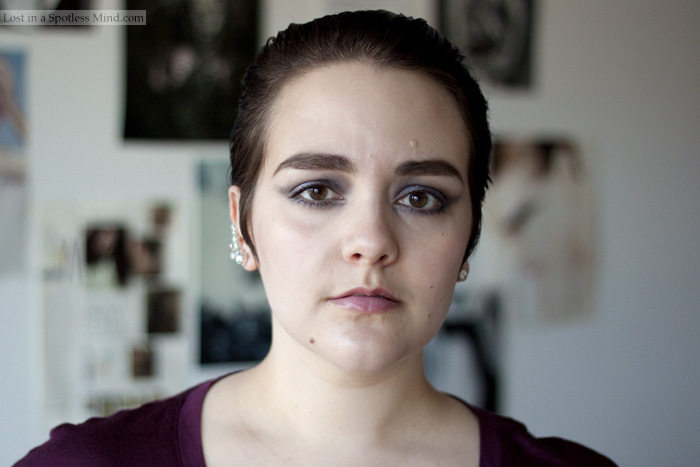 Style 8
A hairstyle to make Spike proud. It's super-simple: just wet your hair, add lots of gel (I like L'Oréal Studio Mineral FX Invisi'Gel), blow-dry while flattening everything backwards, then add more gel and slick it back even more. When the hair is so masculine and not-there as this, I prefer dramatic eye makeup; this is the shimmery grey colour from Sleek's Storm palette (which is bloody brilliant, by the way).
I know I talk of nothing else these days, but I really do love having short hair.
UPDATE: See five new ways to style a pixie by clicking here!