Time for another post in my Defining Style series! So far I've written about my thoughts about defining style, how to find inspiration and create your own mood boards, how to "translate" inspiration into actual outfits, and how to deal with the transition period when you're working on your style. This time, I want to show you how you can fine-tune your style skills and your shopping skills.
I do spend a lot of time browsing online shops. 99% of the time, though, I don't buy anything – I'm simply practicing. As many of you know, I'm a fashion consultant and do all sorts of jobs in that field, so I do need to know what's going on out there, and I also need to ponder and understand a lot about cuts, shapes, fabrics, body types and such. Still, I think this is one of the best things anyone can do when developing their style, it's not just for us professionals.
What we want it to develop the skills to instantly notice various aspects of a garment; the fabric, the shape, the colour and the style, for instance, and then match these to the criteria we're working with. If you're only looking for your own sake, that means figuring out how the garment will fit your body, if the colour will look good on you, if it matches your style, if it works with the rest of your wardrobe (and also if you're trying to fill a need for something besides a gap in your wardrobe, but that's a whole other post). The more skilled you get, the quicker you will notice these things, and it might take just a few seconds to decide if a garment is right or not – and why.
Here's a little exercise I did to illustrate my point. I looked at the newest dresses at ASOS.com (no, I'm not in any way connected to ASOS, I just wanted a shop with a lot of variation in the clothes), and wrote down my instant thoughts so you could see what was going on in my head. Remember, I'm judging the dresses based on me as a customer, so even if I've written that "the shape is bad", that only means it's bad for me.
A quick reminder: I'm 26, about 1.60 meters high, about a size 16 (sometimes plus size, depending on the brand and the garment), very much hourglass shaped, and my bra size is somewhere around a 75D/34D. As for my style, the key words are feminine shapes, always a defined waist, simplicity, vintage elements, and generally an elegant feel to things. All dresses are linked to their respective ASOS pages. Let the games begin!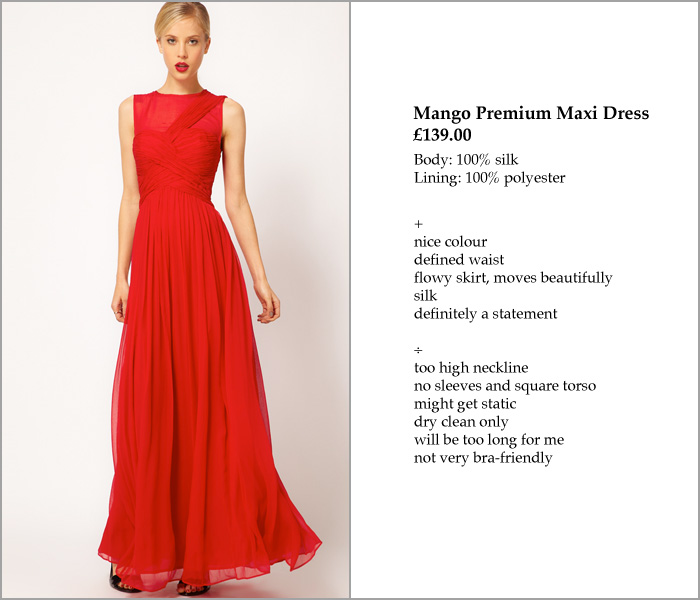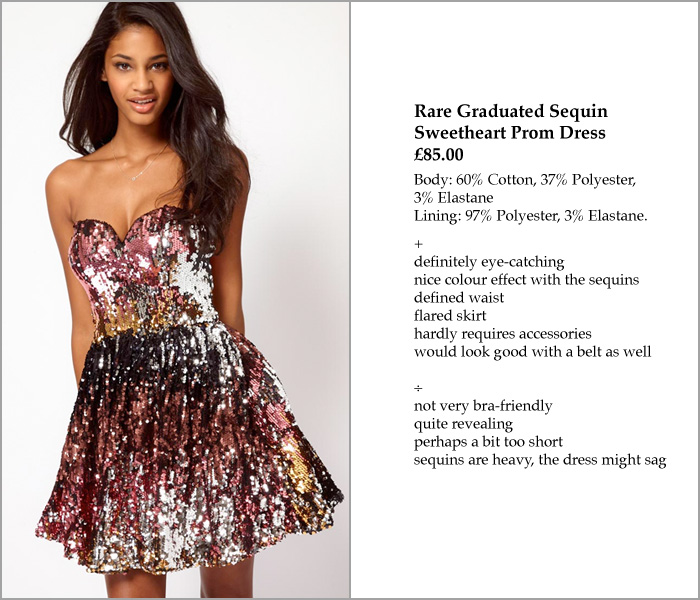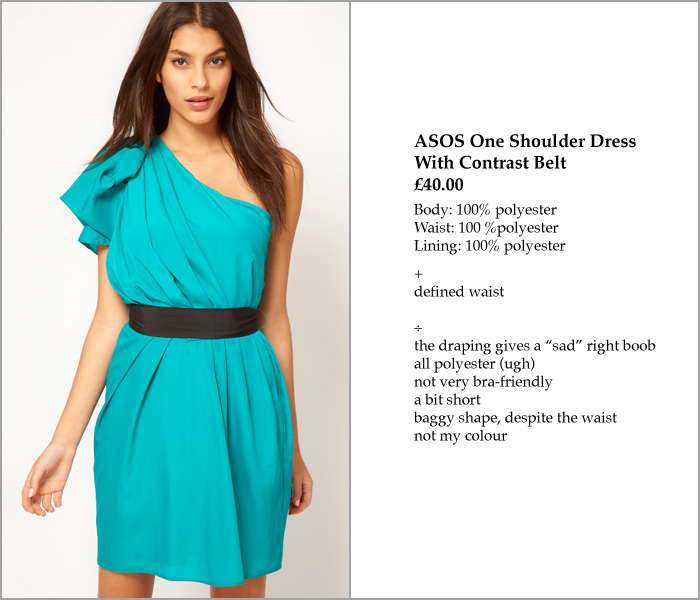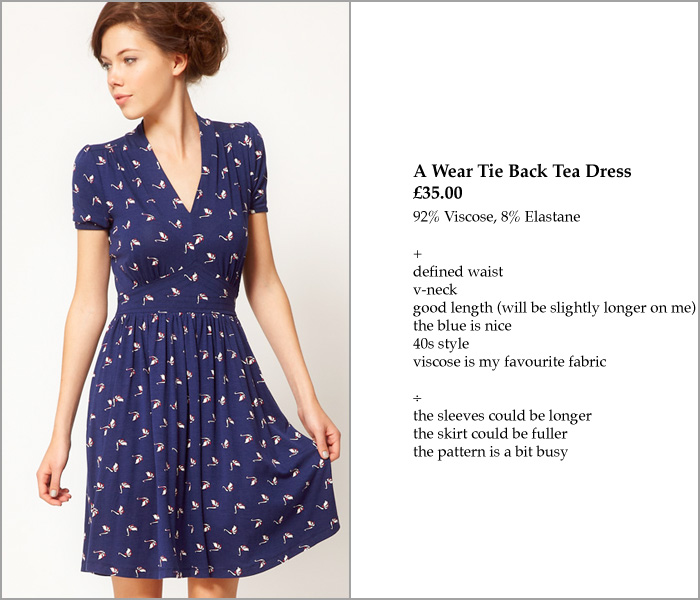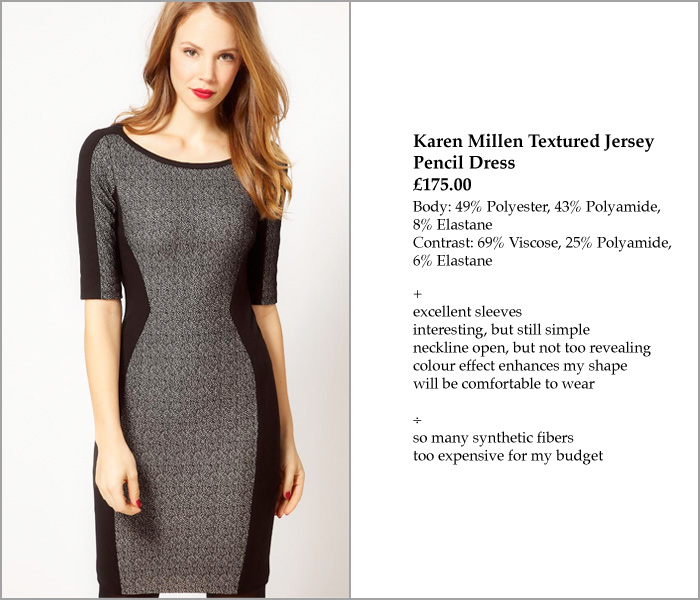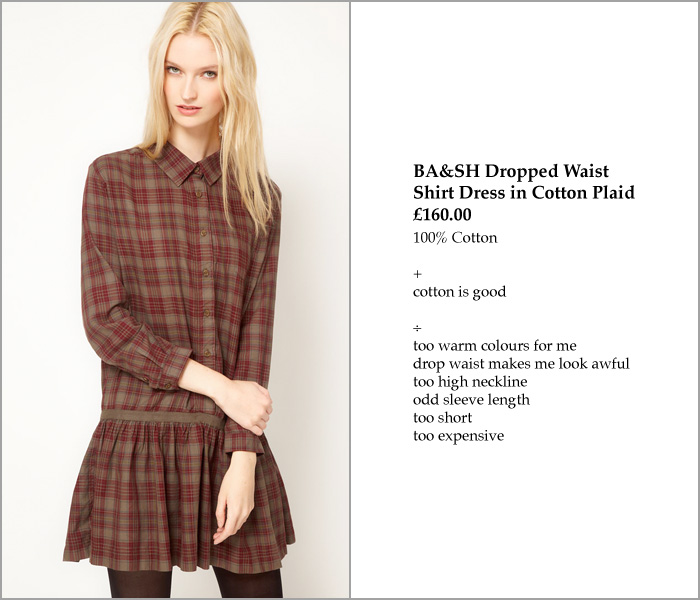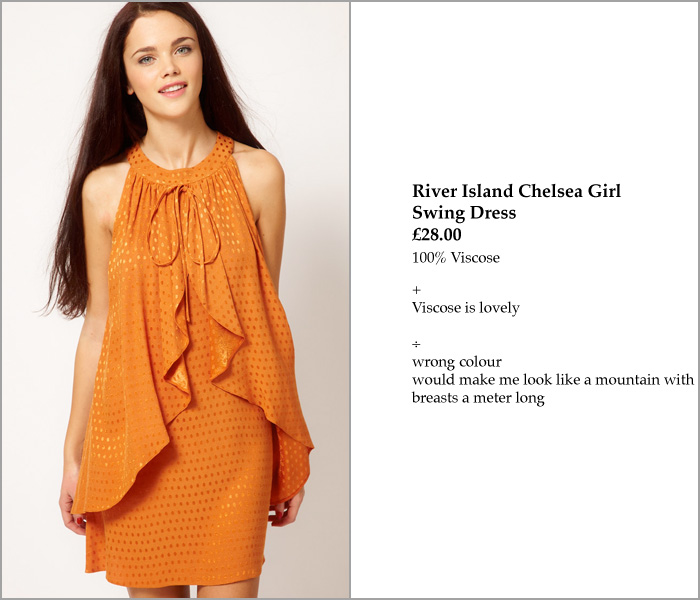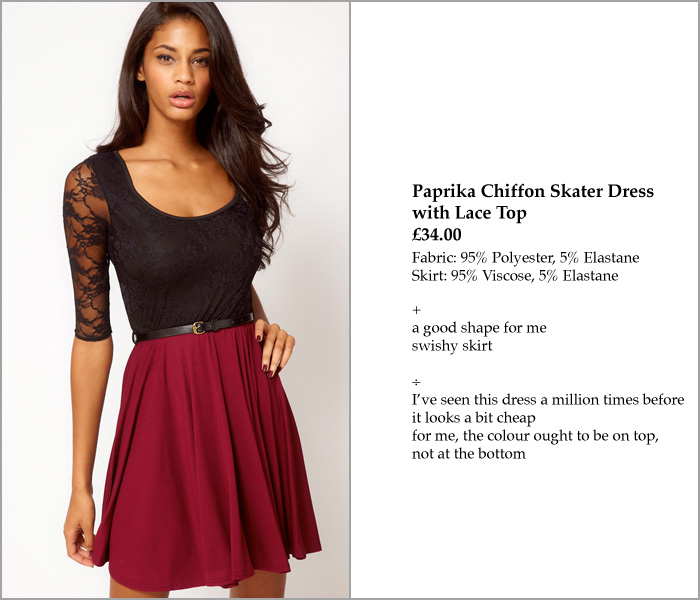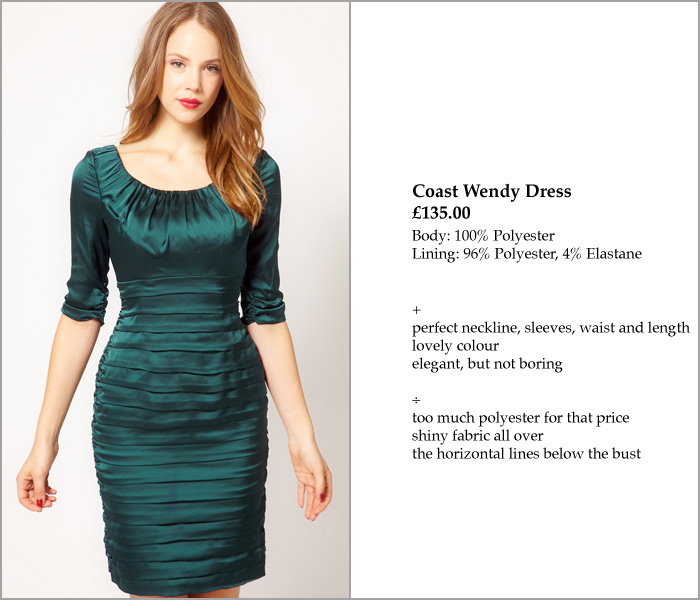 Phew! When it comes down to it, I think the last green dress is the only one I'd consider buying, because it's so very much my style. In fact, if it was made in a matte fabric without the horizontal pleats, I don't think I'd have much choice.
In short: the quicker you can figure out if a garment is right or not, the better you know what suits your body and your style. I like how it prevents me from buying almost-right items, and how I usually know deep in my bones when a garment is so right I'll regret not buying it. Fortunately, I'm so picky that this doesn't happen that often any more, and when it does, I know I've hit the jackpot.
––––––––––––––––––––––––––––––––––––––––––––––––––––––––––––––––––––––––––––––––––––––––––––––––––––
I'd love to hear what goes on in your heads when you're looking at clothes! How picky are you? Do you buy many things that turn out to be mistakes? And what are your "holy grails" when it comes to garments?