Darlings, welcome to the start of a series of posts I call Defining style (all posts will be labeled, by the way, so you can find them by clicking here). I wanted to give you a guide on how to define your own, personal style – and, naturally, I'll demonstrate by doing all parts myself. Each part will have different "levels", so that, based on how experienced you feel when it comes to your own style and preferences, you can choose how hardcore you want to do this.
Level 1 is for those of you that feel rather lost when it comes to the world of fashion. You perhaps don't spend much time thinking about clothes in general (nothing wrong with that, kitten), but sometimes realize that life would be a easier if you didn't have to struggle with your wardrobe every time you're getting dressed. Whenever an occasion requires more than your usual attire, frustration and/or despair sets in. Deciding what goes with what feels slightly impossible, and you're not sure how to dress up while still feeling like you. What you need most of all is to develop a sense of who you are, sartorially speaking, and how to not feel overpowered by everything style-related.
Level 2 is great if you're interested in fashion and style, but not a fashion super-nerd. You might have started actively looking for colours that suit you the best, which shapes will work best on your body type, or which shops that always have something you'll like (and which ones that don't). You think getting dressed can be a great way to express yourself, but sometimes it can be hard knowing what you want to express. Your wardrobe might have schizophrenic tendencies, which makes it hard to put together a harmonious outfit. The main task for you is to find the core of your style – which can still be spiced up with something a bit more experimental, of course.
Level 3 is for those of you who are above average fashion savvy (Maja, I'm looking at you). You'll probably have an opinion about Raf Simons' recent haute couture collection for Dior, even if you don't agree with me in thinking it was magical. This means you also know the meaning of "haute couture". That doesn't mean you only wear designer articles, though, because who does, really? Instead you focus on items that instantly give you that tick all your boxes, often such as "of good quality" and "won't look out of date in six months". As your style is already quite developed, what you need is a better understanding of your style, beyond that gut-feeling. At the same time you also need to practice playing around with your style, as you can sometimes be restricted by your (otherwise excellent) discerning eye.
Remember, the goal here is definitely not that everyone must be a level 3-person by the end of this adventure! Instead, we want to discover a way to make your clothes and styling reflect you, your preferences and personality. This way, everything from shopping to putting together an outfit will be a whole lot easier. Who knows, it might even make you feel more confident, or happier with the way you look. I like to think all of you who read this blog has learned not to underestimate the power of style, and to appreciate how it can affect other areas of your life as well.
–––
Without further ado, let's get started on the first part! This is a very comfortable one, as you can do it all in front of a computer, or with a stack of fashion magazines, some paper and glue. It's all about finding inspiration.
1. First, and this goes for all levels, I want you to collect images of outfits, accessories and hair/makeup that you're instantly drawn to (you might have done this already, but spend a little time doing it anyway, just to get in the mood). You can use Pinterest/Weheartit, an image folder on your computer, or a stack of clippings from magazines.
If you want an example, I have several boards on Pinterest I use for this: Fashion inspiration, Beautiful Items, Hair/makeup, Vintage style and Fashion Photography.
Level 1: try not to let your critical voice take over here. It's perfectly fine to add pictures that might not be entirely practical, or too expensive/cool/girly/whatever. Try to find at least thirty images – I know you can do it!
Level 2:  you probably do this a lot already, don't you? That's wonderful! But still, try not to get stuck here, there is more to this first step. You don't need more than fifty images, really.
Level 3: I know your brain is a master at analyzing outfits (which, again, is excellent), but let's see what you end up with if you let your gut and enthusiasm take charge. Also, try looking for images in new places. You might stumble over a few surprises.
2. Look over your images, and see if you can find any elements that are repeated. It can be as specific as a fabric, a colour or a particular item, or as vague as a mood or a feeling. Write them down; it shouldn't take more than five to ten minutes.
Here is my list, based on those Pinterest boards of mine: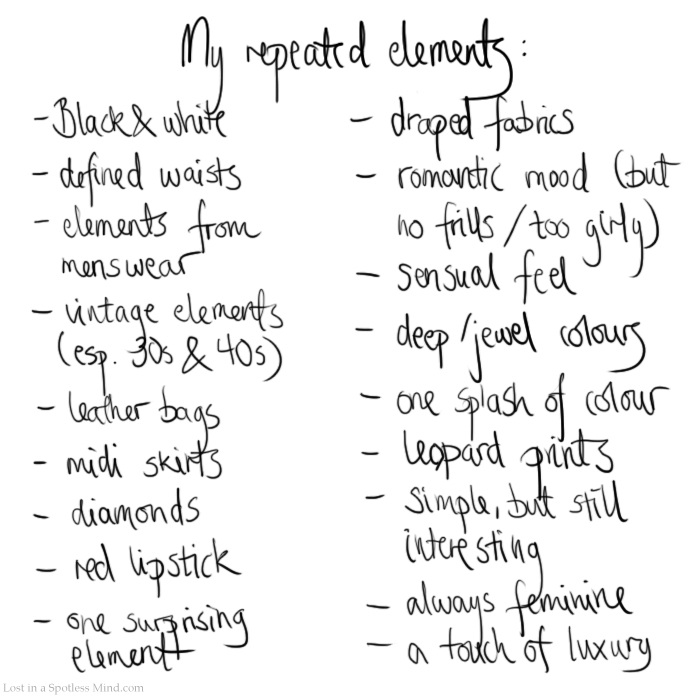 Level 1: you don't need to use fancy words or notice every little detail (nobody but you need to see your list anyway). Instead, play detective and see if you can figure out why you're so drawn to that particular item, or what makes that particular outfit appeal to you.
Level 2: your list will be more helpful if it isn't too long. If this seems to be the case (you can compare it to mine below here), see if you can group certain things together. For instance, instead of writing "flowers", "girly", "braids", "lace" and "pastels", perhaps the word "romantic" can encompass all these aspects?
Level 3: try to work from the images themselves, and not from that list you have in your head already (we both know it's there). See if you can discover some elements you weren't aware of already; perhaps you like a lot of all-black outfits, for example, but if you really think about it, you might also realize that your images of such ensembles also are rather minimalistic, or full of different textures, or always are paired with a bright red lip. Dig deeper.
3. Words are great, but when it comes to style, we need some visuals as well. Which is why step three is to create mood boards. A mood board is basically multiple images put together, usually to demonstrate a particular mood or atmosphere. Polyvore is great for this, or you can print/cut your images and do it the old-fashioned way with glue. I used PhotoShop, simply because I'm a nerd and it allows me to do pretty much anything (such as transform a boring brown coat into a lush, raspberry version).
Now, we're making three mood boards. One will be for fashion (preferably images of full outfits/looks, not just a single garment), one for accessories/textiles/details, and one for hair and makeup. Here's the tricky bit, though: you can have maximum six images on each mood board. This means you'll have to choose with care, and play it smart. The more you each picture looks, the better. Allow me to demonstrate, and then I'll give you some level-appropriate tips.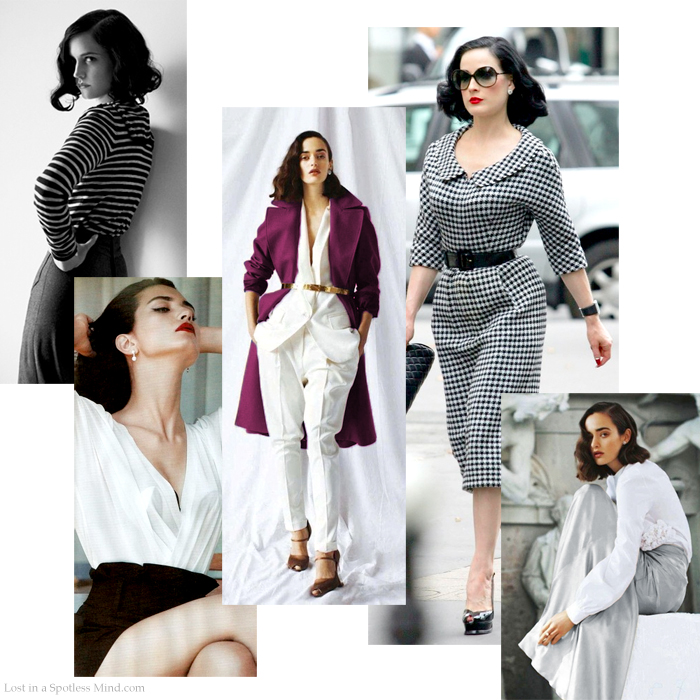 My fashion board. Do you see the connection between my list from our previous step and the mood board?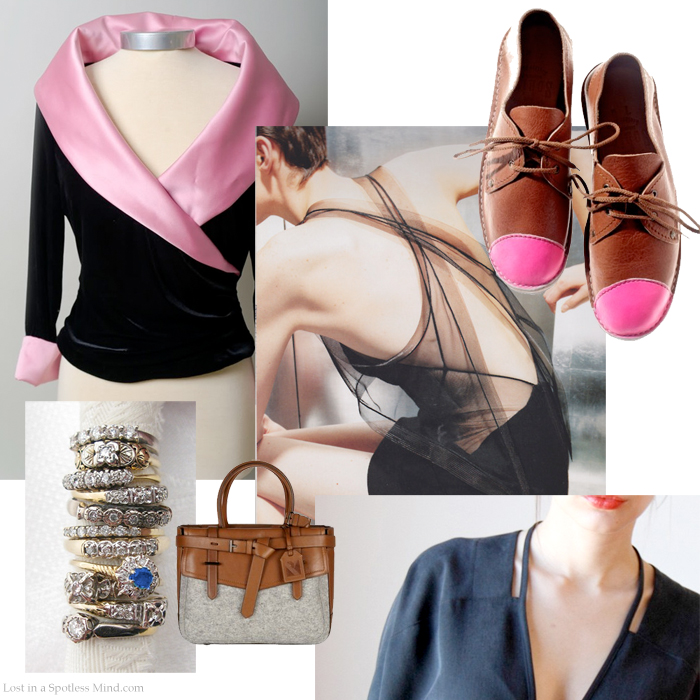 My mood board for accessories and such. You can see that while I like my clothes simple, I like them to have small, interesting details. I also like accessories that draw attention, and preferably mix feminine and masculine elements.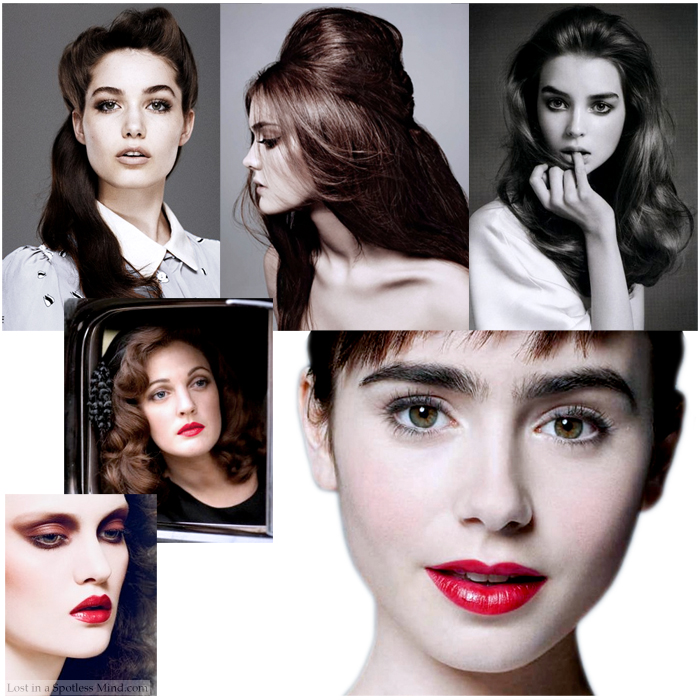 As for hair and makeup, I don't think you'll be very surprised. Bright lips, defined brows and glossy, soft hair. Put all these three mood boards together, and I think we can agree that they represent me quite well. That doesn't mean I didn't get some surprises along the way; I hadn't, for instance, realized just how much I love all black-and-white outfits, but it was rather obvious once I'd chosen and put together my favourite images.
Some tips:
Level 1:t he whole point of these mood boards are that they should excite and inspire you. Naturally, if you spend most of your days walking in the forest or playing with children, then super-glamorous, high-maintenance mood boards aren't really what you need, so you're only smart to take your lifestyle into consideration. Still, "realistic" does not have to equal "boring".
Level 2: try to make sure that your mood boards tie in with your list from step 2. What we want is one definition that's based on words, and one that's visual, but it's important they say the same thing.
Level 3: as with the first level, you need to remember that the mood boards are supposed to make you genuinely excited. The core of your taste should of course dominate the impression, but try to sneak in something that inspires you to challenge yourself as well.
Phew. If you got this far, you get brownie points and gold stars and kisses and hugs and puppies. The next Defining style post will be all about how you can use your mood boards to something practical, and also how to "translate inspiration" from an image to an outfit of your own (without buying a whole lot of stuff). Until next time, chéries – I hope this was useful!