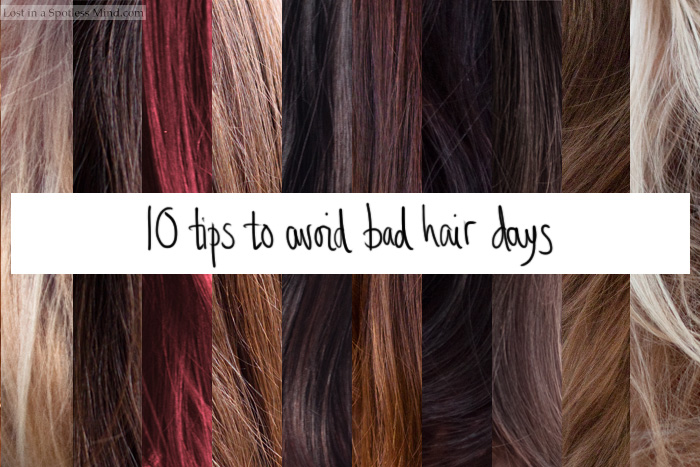 Ah, hair. It can be a source of joy, beauty and even power, or it can drive you mad. This blog post is for those mad times. As you know, I like to think long term and focus on quality, so some of these tips require some learning time. But trust me, if you do plan ahead, 9 out of 10 bad hair days will go away. Yes, really.
1. Coconut oil.
I've tried so many conditioning and strengthening hair products, it's ridiculous. The best one I've ever tried is something as boring as extra virgin coconut oil (I have the one called Cocosa, with the green label). I use a tiny amount to smooth flyaways and add shine, or to prevent frizz after I've done any kind of curls. Where coconut oil really triumphs, however, is if heated up, combed through the hair, and then left in there for as long as you can be bothered. I like to apply the oil, then braid my hair, cover it with a scarf, and sleep on it. After a shower the next morning, both my hair and scalp are super-happy.
2. Learn three hairstyles.
Only professional hair stylists need to know a whole bunch of different hairstyles for pretty much every kind of hair. You only need to learn three styles that work well with your hair. Granted, it requires a bit of time in the beginning to learn them, but once that's done, you'll be able to style your hair quickly and with a wandering mind. My three styles are; my natural hair, but with the ends curled inwards using straighteners; one french braid on each side of my head, with the ends pinned up to create a low updo; and a messy updo with my bangs away from my face.
3. Learn things on YouTube.
YouTube is my favourite place for tutorials. There are millions of them on every field, many of the uploaders have excellent skills, and you can pause and re-watch the videos as you please. When it comes to hair, I really like Let's Make it Up!. Not only does she have plenty of great tutorials for specific styles, but she also does videos like The Braid Encyclopedia, what to do before you curl your hair and Bobby Pinning 101.
4. Read hair blogs (at least once in a while).
For info on hair that isn't styling tutorials, there are lots of blogs out there. My favourites are Hair Romance, She Lets Her Hair Down and The Beauty Department's hair section. Not only can you learn useful things here, but it's also wonderful inspiration.
5. Know your tools.
I currently have five electrical styling tools. Actually, six, if you count the heated rollers. I use two of them – a blow drier and the ghd IV styler – 95% of the time. The more versatile a tool is, the better. With a good pair of straighteners you can straighten, flick, curl and give volume to your hair. I think I know at least three different ways just to create curls! Also, different kinds of clips/pins have different uses. If you know them, your hairstyles will look better and last longer.
6. Understand styling products.
Let's start with volumizing mousse, shall we? I've yet to meet a girl who doesn't own a can, and yet almost nobody seems to know what to do with it. If you want it to create volume, it needs heat. Same goes for salt water sprays. Remember to use enough of a product to get the best effect, and to apply it gradually to avoid using too much.  If your hair, like mine, is very smooth and slippery (hello, Nordic girls!), a product that's very sticky can be super-helpful. I'm a big fan of L'oréal's Studio Remix Styling Paste. It looks like it would be most suitable for short, spiky hair, but a pea-sized amound spread throughout the (semi-dry) lenghts of my hair works wonderfully. The got2b glued hair spray is also great for slippery hair, both as a finishing touch and to add texture before styling.
7. Rinse conditioner thoroughly.
I only just discovered this, and it has made such a difference. We've all heard that after a heavy conditioning treatment, you have to rinse properly. But my guess is you can probably rinse a bit more thoroughly even after ordinary conditioner. I've started rinsing about twice as long as I used to, and my hair is so much lighter than before! It doesn't get oily as quickly either, come to think of it. Might be worth a shot if you think your hair feels a bit limp and heavy. After you've rinsed your normal amount, rinse a bit more. Then some more. Go on, a bit more. There you go.
8. Know what you like and what suits you.
If I forget to add a bit of extra volume on top when doing any kind of updo, I'm never satisfied with the finished look. It's just something about my hair, the shape of my head, my face, that means I need some height on the crown. The good thing is that as I've realized this, all my updos now get a good start, and the chance of me liking the finished look is much bigger. If you know that you need a bit of hair loose around your face to feel comfortable, don't start a hairstyle with scraping everything away from your face, for instance. But, if you're willing to broaden your horizon, try to leave your comfort zone on a day you're not doing anything important. Who knows, you might discover something lovely!
9. Tiny things can make a huge difference
Taking one extra minute to cover a hairband with a strand of your hair can make that ponytail look five times better. Messy updos always look better with somewhat curled ends, so if you don't have naturally curly hair, spend four minutes giving your tips a bit of a curve with your straighteners. If you're blonde, gold bobby pins will blend in with your hair for an elegant, pulled together-look – and black ones will instantly make a hairstyle look more casual. Neglecting such small touches can prevent a hairstyle from ever looking the way you want it. The devil is in the details.
10. Be realistic.
One of my biggest pet peeves nowadays is that in EVERY SINGLE TV-SHOW the "default" hairstyle for women (and even little girls!) is long hair that has been given big waves with a straightener. Pretty much 90% of hair on TV looks like that nowadays, and it's just so boring. Also, I think it has somewhat the same effect as PhotoShop can have on how we look at our bodies/skin. We gets so used to looking at this huge, perfectly waved and glossy hair, that we forget that it's pretty much never natural, and would require touch-ups every fifteenth minute or so, not to mention a surprising amount of extentions. Hair can be beautiful without styling it to death, and it isn't necessary to look so bloody pretty all the time, either. We have more going for us than just that, don't we, darlings?
You might be interested in...